Oct. 15, 1997
Toyota to Unveil the Prius Hybrid Car and
NC250 Luxury FR Sedan at 32nd Tokyo Motor Show
Revealing Toyota's Aims for Innovative Vehicle Development
Tokyo―TOYOTA MOTOR CORPORATION (TMC) today announced that it will exhibit many new-technology vehicles at the 32nd Tokyo Motor Show, to be held at the Makuhari Convention Center (known as Makuhari Messe) in Chiba Prefecture from Wednesday, October 22 through Wednesday, November 5. The company will exhibit 14 prototype cars and 44 current production vehicles based on 29 models.
The Tokyo Motor Show enables visitors to explore the automobile's new potential. Toyota always displays a range of special-exhibit cars and its latest technology at this event, reflecting feedback from the event in the vehicles it markets.
The theme of this year's show is "Action for Tomorrow." As the twenty-first century draws ever closer, Toyota will present its position for advancing innovative auto-making that fits well with society, the environment, and people.
Prius

NC250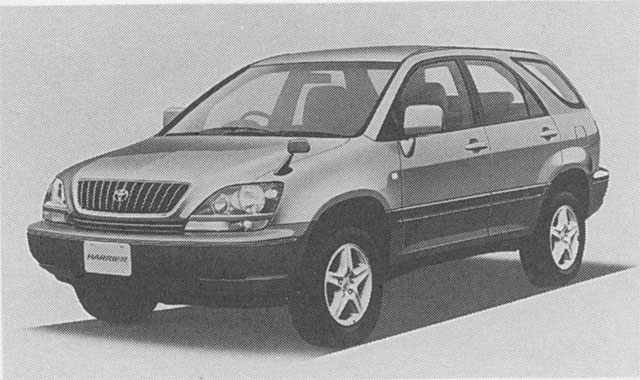 Harrier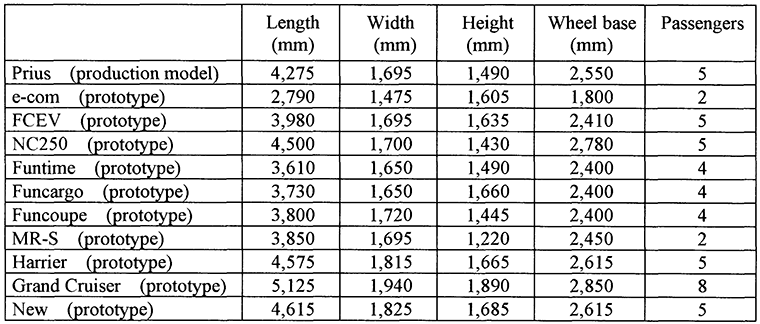 In addition to the vehicles listed above, vehicles active on motor sports circuits will be presented, along with new versions of the recently-introduced Aristo, Caldina, and Hilux models. Toyota will also present the results of its work on environmental conservation, safety, and Intelligent Transport Systems (ITS), the advanced roadway traffic system, at its Technology Comer.
Main Display Vehicles
Prius*1

This innovative sedan is equipped with the Toyota Hybrid System and has been developed under the "harmonious vehicle" theme to make it fitting for the approaching twenty-first century.

Prius was developed in response to global environmental concerns.

Fuel consumption of 28km/L (Japan 10.15 mode) is double that of a conventional vehicle in the same class, CO2 emissions are halved, and CO, HC, and NOx emissions are 1/10th of statutory requirements.
Prius uses TSOP*2 and RSPP*3 materials that are easy to recycle, as well as reduced amounts of lead and other substances that are harmful to the environment.
*1Prius

Derived from Latin, meaning "ahead" or "advanced."
*2TSOP

Toyota Super Olefin Polymer
*3RSPP

Recycled Sound Proof Products
The Prius advances the concept of providing a roomy interior with a compact exterior.

Features short overhang, a large cabin with a new three-box exterior silhouette, with digital meters placed at the top of the centrally positioned instrument panel, and a futuristic interior.
e-com

The e-com (ECO Commuter) is a convenient two-seater ultra-compact EV conceived and developed for personal mobility in metropolitan and suburban areas.

An FF power train system with incredible practicality

While small and lightweight, the vehicle's AC synchronous electric motor is highly efficient and powerful.
On a full charge, the nickel-metal hydride (Ni-MH) batteries achieve a 100km operating range, and recharging the battery is possible from a 100V household electrical outlet.

A pleasant, roomy interior, and a sharp "go anywhere" exterior design

The distinctive, curving, oval exterior graces a compact body only 2,790mm in length.
The well-appointed interior has separate seats that act like a single bench seat allowing easy access to a spacious central instrument panel.

FCEV

The FCEV is a Fuel Cell Electric Vehicle using methanol as its basic fuel, which is made primarily from natural gas rather than from petroleum.

As methanol and water vaporize, they become hydrogen and CO2 through the action of a catalyst. Electricity is generated in the fuel cell from the hydrogen and oxygen in the air. The water vapor produced by the fuel cell then condenses to be reused.
Like gasoline, methanol is a liquid fuel, and refilling the fuel tank can be done as quickly as those of conventional vehicles. And because the fuel cell is highly efficient, it allows an operating range of about 500km, similar to that of a gasoline-fueled vehicle.
Total CO2 emissions, including those made during resource development, are less than half those of gasoline vehicles, and it is possible to greatly reduce HC and NOx exhaust gas components.
The methanol fuel reformer, fuel cell, and Ni-MH battery are mounted compactly under the floor of the vehicle, freeing interior space for passengers and luggage.

NC250

The NC250 is a New Concept FR sedan that incorporates top-of-the-line looks, performance, and quality in a compact body size; "a compact luxury car."

Advanced features and an eye-catching exterior.

A long wheelbase, short overhang, and large cabin allow advanced FR features and extra interior space surpassing that of FF vehicles.
The exterior has a new silhouette that gives the impression of vitality and luxury.

Performance worthy of a luxury car.

The NC250 is mounted with an in-line, 6-cylinder, 2.5-liter gasoline engine with electronic throttle control and Variable Valve Timing-intelligence (VVT-i) technology.
CO, HC, and NOx emissions are reduced to 1/10th the amounts allowed under Japanese regulations.
The newly developed AI*1-Shift (cooperative shift control) extracts road configuration and positional information from the navigation system to recognize approaching comers and apply a combination of braking and downshifting for an incredibly smooth ride.

Increased safety and equipment performance.

An antilock brake system (ABS), traction control (TRC), Vehicle Stability Control (VSC), and Brake Assist systems enhance active safety performance.
The NC250's passive safety features include a Toyota Passive Safety Body (GOA*2), dual Supplemental Restraint System (SRS) airbags, and SRS side airbags. During a side collision, a newly developed SRS curtain-shield airbag deploys from the front pillars and sides of the roof, to help reduce head impact injury.
The navigation system, using a 7-inch pop-up monitor, conforms to the Vehicle Information and Communication System (VICS) and MONET*3, an on-line information service from Toyota.
A radar cruise control helps relieve driver burden by maintaining a fixed distance from the preceding vehicle.
*1AI

Artificial Intelligence
*2GOA

Global Outstanding Assessment (domestic Japan Toyota term for top-level passive safety concepts)
*3MONET (pronounced "mo neh")

Mobile Network
Funtime

Part of a new compact three version car series, the Funtime is a small hatchback sedan that features both ample interior space and small exterior size, in line with the idea of "a next-generation compact car easy on people and the environment."

It has high seat positions with upright postures, along with plenty of head clearance, to make the cabin suitable for everyone.
All efforts were made to assure easy use of this compact car, including attention to vehicle access, tight turning radius , and ease of operation.
The rear seat can be arranged to accommodate cargo.

Funcargo

A wagon version in this new compact car series, the Funcargo has lots of room in the cabin and a large cargo space to meet the needs of a variety of lifestyles.

Funcoupe

A sports coupe version of the new compact series, with a removable targa roof and rear hatch that turns the Funcoupe into a fim convertible.

MR-S

This simple, fun-to-drive sports car carries on the tradition of the mid-ship engine, rear-wheel drive Toyota Sports 800.

Creation of a new style and set of features.

The sportiness of the MR-S is enhanced by greatly shortening the overhang, placing the tires at the four comers, and adding side air intakes that signify the midship engine design.
The interior of the MR-S produces a feeling of simplicity and gutsy tightness, and provides cargo space behind the seats.

Responsive performance

Thanks to the newly developed lightweight and firm strut-type suspension and long wheelbase, easy handling is at one's fingertips.
Good mileage is achieved with the help of the new-generation lightweight mid-ship 1.8-liter VVT-i fuel-efficient engine.
The newly developed sports sequential transmission allows shifting in a straight line for swift, accurate gear change, without using the clutch or by using tip switches on the steering wheel.

Harrier

This new-generation sports utility wagon has added the sporting spirit and the sense of utility to the performance essentials of a passenger car.

It has a step-ahead shape suitable for all occasions, from formal events to outdoor adventures.
An interior with the feel of luxury is a key element, starting with features such as walk-in front seating made uncluttered by placing the shift lever under the central instrument panel. It also includes a rear seat with one-touch control for sliding, reclining, and folding down.
It fuses together the on-road performance of a luxury car with terrific off-road handling not seen before in sports utility vehicles.

Grand Cruiser

With excellent ability for covering rough ground, the "King of 4WD" serves a dual purpose, also giving a smooth ride and plenty of comfort.

It comes with either a new 4.7-liter V8 gasoline engine or a 4.2-liter in-line 6-cylinder turbo diesel engine with an inter-cooler that meets or exceeds emission standards now in place.
Active Height Control (AHC) allows the driver to raise or lower the vehicle chassis by 50mm, and it also has the Skyhook Toyota Electronic Modulated Suspension (TEMS).

New

This is an experimental model for an advanced sports utility wagon (SUW) based on the design concept of "urban excitement."

The upper body has the clean doors of a passenger car and the lower body has the flared wheel wells and sculpted character lines of an SUV with unique design. Blended front headlamps fit with a V-shaped grille, creating a chrome belt across the front of the car.
Advanced interior roominess concepts include seats with a see-through design, stand alone instrument cluster and steering station, and indirect lighting. Futuristic headrests fold down from the ceiling instead of being attached to the seats to support this design.

Motor Sports

As one way to pursue automobile technology development, Toyota engages in a wide variety of motor sports activities worldwide.

Vehicle entry in the CART World Series (and its engine)
Corolla entry in the World Rally Championship
Chaser entry in the Japan Touring Car Championship
Supra entry in the Japan GT Championships

Region-Specific Production Models

In other areas, overseas special vehicle production includes the Thai-manufactured Soluna* and the Indonesian-made Kijang**, which are displayed as examples of special non-Japan Toyota production.
*Soluna

From the Spanish words sol (sun) and luna (moon).
**Kijang

The Indonesian word meaning deer.
Technology Exhibit
Environment

An introduction to our various efforts on energy conservation, alternative energy development, recycling technology, and environmental preservation.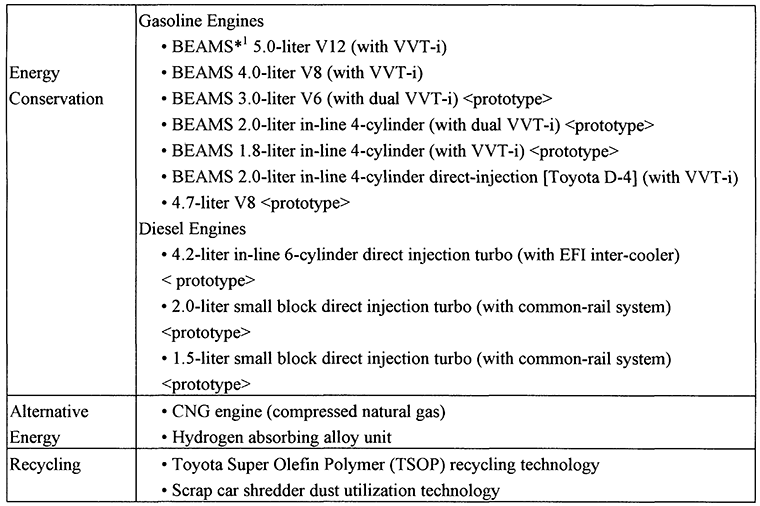 *1BEAMS

Breakthrough Engine with Advanced Mechanism System
Safety

Toyota is energetically engaged in both active and passive safety. Here is an introduction to the newest safety technology in development and use in the current vehicle market.

*GOA

Global Outstanding Assessment means Toyota's highest safety standards which meets or exceed all Japanese, European, and U.S. safety standards.
ITS

Toyota's efforts with Intelligent Traffic Systems (ITS), based on the special field of human engineering, introduces the "Cockpit of Tomorrow."

In addition, from November 1, it will be possible to contact the on-line information service MONET** and experience a demonstration of the car navigation system from Toyota Media Station.
Note
Toyota will hold a press briefing in its booth on Wednesday, October 22, from 1:30 to 2:00 P.M. Toyota will also provide a press room at the same location throughout the exhibition, so please feel free to use it.
**MONET

Mobile Network
Toyota Vehicle on Display