Oct. 18, 1995
Toyota to Display New-Generation Sedan "Toyota Prius"
at the 31st Tokyo Motor Show
Tokyo―TOYOTA MOTOR CORPORATION announced today that it will display an array of passenger cars, commercial and recreational vehicles―14 special-exhibit cars and 56 production cars from 39 models―and a variety of technical exhibits at the 31st Tokyo Motor Show. The show will be held at the Nippon Convention Center, popularly known as Makuhari Messe, in Makuhari, Chiba Prefecture, from October 28 (Sat.) to November 8 (Wed.).
The Tokyo Motor Show enables visitors to explore the automobile's new potential. Toyota always displays a range of special-exhibit cars and its latest technology at this event, reflecting feedback from the event in the vehicles it markets.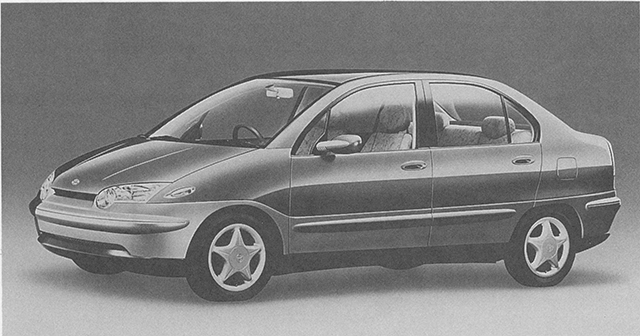 Toyota Prius
Under the theme "A Touch of Happiness," Toyota explores the interrelationships of people;* society, and the earth.
Toyota's basic concept of "making cars that make everyone feel a touch of happiness" will be highlighted in its special-exhibit models: the new-generation sedan Toyota Prius, the Toyota MRJ―a sports car for active lifestyles―the Toyota FLV, Toyota Ipsum, and Granvia Riente models―which provide a broad range of alternative car usage―and the Toyota Moguls, an all-terrain vehicle designed for forestry-management work.
The special-exhibit models are described below.
L

Overall length (mm)
W

Overall width (mm)
H

Overall height (mm)
D

Engine displacement (cc)
S

Seating capacity (persons)

*1Prius

Derived from Latin, meaning "ahead, or advanced;" the model is a sedan of the near future with lots of room in a compact body and comfortable to people and to the Earth.
*2MRJ

"Midship Runabout Joyful"
*3FLV

"Future Luxury Vehicle"
*4Ipsum

Derived from Latin, meaning "by itself;" an original shape for the family car is pursued in this model.
*5Riente

Spanish, meaning "cheerful and merry"
*6Moguls

Inspired by free-style "mogul" skiers.
In addition to these special-exhibit models, Toyota's commitment to safety and the environment is reflected in its technical exhibits.
Special-Exhibit Models
New-Generation Sedan "Toyota Prius"

This innovative passenger car's new form is "easy on both people and the environment and makes everyone feel a touch of happiness."

Concrete space in motion, pursuing comfort and convenience

"One-form three-box" package ensuring cabin roominess and a compact body
A user-friendly multimedia system receives road traffic information, pays toll fees automatically, and exchanges information with other cars.

Toyota Energy Management System (EMS), a new power train system to maximize fuel economy

Energy-retrieval (recovery and recycling) control at the optimum engine range for maximum fuel economy and low exhaust emission levels, and a regenerative braking system
Improved version of the direct-injection Toyota D-4 gasoline engine, first developed in 1993 for low fuel consumption
Continuously variable transmission (CVT), a high-efficiency belt-driven transmission system
Induction motor/generator that regenerates braking energy (generator function) and stores it in the capacitor during deceleration, and acts as a motor to assist output during acceleration
Power capacitor to temporarily store electric power generated by the motor/generator

Light, safe body structure, and other safety-enhancing equipment

Optimized body structure that disperses, transmits, and absorbs collision energy efficiently, and a soft upper passenger compartment interior to reduce injury from secondary impact
Emergency braking assist system that helps emergency pedal operation and maximizes antilock braking system (ABS) performance
Supplemental restraint system (SRS) air bags at six locations: one each for driver and passenger seats and for both sides of front and rear seats
Built-in child seats

New-Generation "Active Lifestyle" Sports Car Toyota MRJ.

Midship two-plus-two seater providing open-air sports driving pleasure

New midship styling concept

Vibrant, dynamic lines suggesting power, with a broad, low, slanted nose, and minimal front and rear overhang
Two-plus-two seater cabin space for more versatile seat arrangements providing extra luggage space and adding a new dimension to sports car driving
"Aerocabin" combining open sports car and hard top styles

Driving agility typical of midship models, plus greater controllability and driving stability

Layout that ensures excellent stability and controllability, superstrut suspension, and active rear wheel steering
Steering responsiveness and stability from long wheelbase
1.8-liter, 20-valve, DOHC engine with variable valve timing (WT) securing ample torque at low and medium engine speeds

Future Luxury Toyota FLV

A new-generation luxury vehicle combining luxury and comfort, and outstanding multipurpose utility for active lifestyles

Exterior appearance and interior space for that look of quality and comfort

Oval silhouette design creating a sporty, elegant form suggesting fluidity and substance, with sharp character lines
Spacious passenger compartment
Seats with optimal height, ample leg room, and head clearance for natural posture

Pursuing greater utility

Long, wide passenger compartment offering utility and practicality unprecedented in a luxury saloon

"Friendly Saloon" Ipsum

Multipurpose compact seven-passenger family car

Cabin layout that can be changed to fit the usage and the number of occupants

Flexible seating arrangements, including two bed configurations
Easy walk-through from front seats to second seats; second seat mounted on a long (345mm) slide

Greater family-car convenience

Compact and easy to handle
Seat heights offer easy entry and exit

New styling theme

Distinctive one-motion styling

Comfortable Semi-Bonnet Van Granvia Riente

Multifunctional MPV "for everyone" with a broad range of car-use alternatives

Advanced design balancing dynamism and firmness

Semi-bonnet styling, low-slung body for stability, all-glass canopy-type sunroof, and roof spoiler

Comfortable cabin that allows versatility and ease of use

Spacious living-room-style interior
Electric-powered slide-down seat enabling elderly and physically challenged passengers to easily enter and exit the vehicle
'Shuttle console' mounted on an extra-long slide for easy reach, having a fold-down table, a warmer/cooler, and an upper tray
Canopy-type opening and tilting sunroof and detachable swing hanger for attaching outdoor equipment

Forest Worker Toyota Moguls

Mountain-terrain vehicle developed as part of the "Forest of Toyota Project"―a plan to help find better ways of preserving and nurturing our forests―to lighten the workload of forestry workers

Excellent driving power and active vehicle posture control

A horizontal control function to keep the vehicle body level, a long-stroke vehicle height adjustment function, and a ground control pressure control function all assist driving on rough terrain, inclines, and bumpy roads
Sharp turning ability enabling a small turning radius
Four-wheel independent hydraulic suspension with hydraulic wheel-motor driving each wheel drive
Standard wheels replaceable by four-wheel independent rubber-track triangular-shaped units to increase driving performance on soft ground

Equipment and systems to assure safety

Vehicle posture and stability monitor, warning and automatic stopping function; central driving seat for excellent visibility
Super-slow slope decent function for safely traversing steep slopes without demanding pedal work

Cynos Convertible

A Cynos-based, two-plus-two convertible―with an easy-to-operate soft top―realizing pleasant open-air driving.

Fun Runner II

A new sports utility vehicle (SUV) with stylish body, sporty exterior, outstanding safety, and passenger-car-feel cabin

Custom Taxi Models Crown Comfort and Comfort

Spacious interior, large-opening rear door, clean and large trunk room, excellent passenger comfort, drivability, reliability, and many maintenance functions that can be carried out by drivers, which respect resource conservation and recycling

Motor Sports

Introducing Toyota's motor sports activities both in Japan and overseas to improve motor vehicle technology

Celica GT-Four for WRC Group A racing
Corona EXiV Super Touring Car
Vehicle scheduled to race in the IndyCar racing series
Technical Exhibits
Intelligent Transport Systems (ITS)

A revolutionary traffic control system now being researched and developed for early implementation by a joint government, academic, and industry effort, including Toyota

Car navigation and traffic information utilizing the Vehicle Information and Communication System (VICS)
Road traffic management system, including automatic toll collection without the vehicle having to stop
Automatic driving system technologies (lane tracking system and an obstacle avoidance function)

Toyota Advanced Safety Vehicle (ASV)

The Toyota ASV, completed in March 1995, realizes a high level of both active and passive safety. It is also the first such vehicle to be introduced. The display shows these advanced safety technologies.

Preventive safety, e.g., drowsy-driving warning system and automatic headlight arrangement system
Avoiding accidents, e.g., automatic collision-reduction braking system and SOS vehicle stop system
Minimizing collision damage, e.g., side and hood air bag systems
Minimizing post-collision damage, e.g., accident reporting system and drive recorder system

Vehicle Stability Control (VSC) System

Lateral skids caused by sudden steering changes, sudden changes in road conditions, etc., contributing to accidents are controlled by the braking of each wheel and adjustment of engine output. VSC is used in the new Crown Majesta i-Four.

Variable Valve Timing-intelligent (WT-i) System

This innovative development for the new Crown's 2JZ-GE engine helps conserve resources and prevent global warming. Continuous control of intake valve opening and closing assures optimum valve timing for all driving conditions and boosts fuel economy and reduces NOx and hydrocarbon emissions.
Exhibits at Japan Electric Vehicle Association Section
Electric Vehicle―RAV4 EV

Easier-to-use RAV4-based electric car with superior driving performance and greater range. Batteries can be charged from household power sources. Under-floor battery storage enlarges cabin space and enhances vehicle stability. The exhibited vehicle won the 1995 Scandinavian Electric Car Rally.

Hybrid Electric Bus―Coaster Hybrid EV

Microbus with 1.3-liter gasoline engine generator and high-performance electric motor developed for city driving.
Also equipped with wheelchair lift
Reference

Toyota has scheduled a press briefing at the section for passenger cars and recreational vehicles from 10:30 to 11:00 A.M. on Wednesday, October 25.
Coinciding with the 31st Tokyo Motor Show, Toyota will open the Toyota Internet Drive on Wednesday October 25 on the Internet, the world's largest computer network, to provide information on the Motor Show. The address for its home page is http://www.toyota.co.jp
Attachment I

List of Toyota Vehicles at Tokyo Motor Show
Section for Passenger Cars and Recreational Vehicles

Toyota Prius (special exhibit)
Toyota MRJ (special exhibit)
Toyota FLV (special exhibit)
Toyota Ipsum (special exhibit)
Celica GT-Four WRC Group A car (special exhibit)
Corona EXiV Super Touring Car (special exhibit)
Model to take part in IndyCar racing series (special exhibit)
Cynos convertible (special exhibit)
RAV4 EV, Scandinavian Electric Car Rally-winning car (*1) (special exhibit)
Century L-Type
Celsior C-Type
Crown Majesta 4.0 C-Type i-Four
Crown four-door hardtop 3.0 Royal Saloon G, with GPS voice-navigation system and Electro-Multi-Vision
Aristo 3.0V
Avalon 3.0G
Windom 3.0G
Scepter sedan 2.2
Mark II Hardtop 2.5 Grande G
Chaser 2.5 Tourer V
Cresta 2.5 Super Lucent G
Vista hardtop 2000VX, with G package
Camry 2 0 0 0 ZX
Toyota Cavalier sedan 2.4G
Corona sedan 2.0 EX Saloon G
Carina sedan 1.8 SX-i
Corolla sedan 1.5 SE saloon, with G package
Sprinter sedan 1.5 SE-Vintage
Tercel four-door VX 1500 EFI
Corsa VIT-X 1500 EFI, with saloon package
Corolla II with special specifications (Super Windy)
Soarer 3.0GT, with G package
Supra RZ
Toyota Cavalier coupe 2.4Z
Celica SS-III
Corona EXiV 2000 GT, with "Touring" version
Carina ED GT, with "Exciting" version
Curren ZS, with "Sports Selection"
MR2 GT with T-bar roof
Corolla Ceres F-Type, with "Extra" package
Corolla Levin BZ-G
Sprinter Marino X-Type, with "Extra" package
Sprinter Trueno BZ-G
Cynos 1.3 a, with Juno package
Scepter station wagon 2.2G
Caldina 4WD 2.0 TZ-G
Sprinter Carib Z touring
Granvia 2.IQ, with twin moon roof
Estima 4WD, with twin moon roof

Section Commercial Vehicles and Recreational Vehicles

Granvia Riente (special exhibit)
Toyota Moguls (special exhibit)
Fun Runner II (special exhibit)
Crown Comfort (*2) (special exhibit)
Comfort (*3) (special exhibit)
Corolla wagon G Touring 1.6 4WD
Sprinter Carib Z Touring, with RV package
Granvia 3.0 diesel turbo Q
RAV4 L "Personal Selection"
RAV4 L V "Touring Limited" special edition
RAV4 J "Personal Selection"
RAV4 J V
Land Cruiser 80 Active Vacation VX Limited, with 4200 diesel turbo
Land Cruiser four-door Prado SX Wide
Hiace wagon Super Custom Limited with 2WD 3000 diesel turbo EFI
Dyna aluminum van S with storage lift
Toyoace, heat-insulated van
Townace Handy Cab, with side lift seats
Liteace Handy Cab, with side lift seats
Hiace Handy Cab I-Type
Estima Lucida Charme, with B specifications
Hiace cruising cabin S 4WD
(*1)

Exhibited October 25-27
(*2)

Exhibited October 25-November 2
(*3)

Exhibited November 3-8
Exhibition times for others vehicles will vary.
Section for Japan Electric Vehicle Association Exhibits

RAV4 EV (special exhibit)
Coaster Hybrid EV (special exhibit)
Attachment II

Toyota Internet Drive
Toyota Motor Corporation will open its home page, "Toyota Internet Drive," on the worldwide Internet information network in conjunction with the opening of the 31st Tokyo Motor Show. By disseminating information from the new home page, the company intends to communicate more effectively with the international community and to match the current stage of communications development in this age of global networks.
Overview of Toyota Internet Drive Home Page
Start of Information Provision

Wednesday, October 25, 1995

Address (or Name of URL)
Basic Ideas Behind Information Provision

To introduce Toyota's general business activities in an easy-to-understand way
To provide varied and valuable information on Toyota vehicles
To provide high quality information that is intellectually stimulating

Toyota Internet Drive Configuration

The home page will consist of the following seven areas

Spotlight (featuring the 31st Tokyo Motor Show)

Introduces Toyota's displays at the show, including concept cars.

Virtual Showroom

Introduces the full lineup of Toyota vehicles, including new models.

The Museums

Provides information on Toyota's cultural facilities, including the Toyota Automobile Museum and data on exhibits.

Toyota Today & Tomorrow

Includes a profile of the company by introducing Toyota's domestic and international business activities.

Data Center

Provides data on the present condition of overseas and domestic automobile industries.

Community Plaza

Offers information on social and cultural events held by Toyota.

Toyota University

Features seminars and on-line symposia on vehicles from a broad social and cultural perspective.