May. 25, 2000
Leaner and Greener―Prius Gets Even Better
Improvements Include Increased Power, Enhanced Fuel Economy, More Space
Tokyo―TOYOTA MOTOR CORPORATION (TMC) has taken the world's first mass-produced hybrid passenger car and made it even leaner and greener. The improved Toyota Prius hits showrooms across the country today boasting greater user-friendly features, heightened environmental specifications and more-distinct styling both inside and out.
Ever since its debut in 1997, the Prius, with its groundbreaking Toyota Hybrid System (THS) and advanced design and packaging, has been hailed as a next-generation four-door sedan for the 21st century. The more than 37,000 units*1 sold to date testify to its popularity.
Now, a more-finely honed THS is set to keep the Prius at the forefront of practical hybrid technology, by giving the five-seater passenger car cleaner emissions and better fuel economy, with sharper acceleration and more responsive driving characteristics.
The improved Prius meets government-set J-ULEV*2 standards for the year 2000. It also gets 29 kilometers to the liter in the 10 • 15 Japanese test mode (up from a previous 28), and boasts significantly improved fuel efficiency during air conditioner use and cold engine operation. All this has been achieved without sacrificing fun-to-drive attributes-performance improvements include a regenerative brake system with a more natural feel and electric power steering for an enhanced driving experience.
A smaller―yet better performing―battery allows for a larger trunk and 60/40 split folding rear seats for more versatility. And the Prius also now comes with an easy-to-use touch-sensitive Electro Multivision monitor.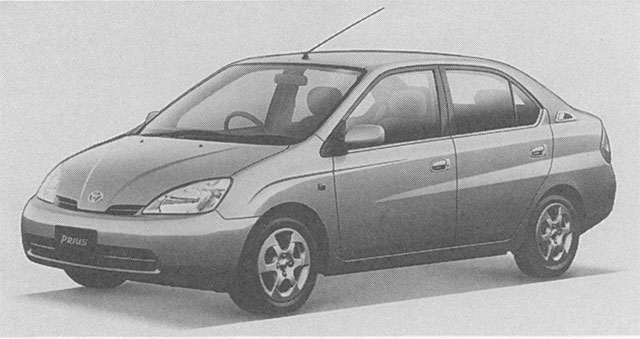 Prius S [ZA-NHW11-AEEEB]
*1As of the end of April 2000, based on japan Automobile Dealers' Association figures.
*2Japan-Ultra-Low Emission Vehicle
Prius-the Latest in Hybrid Evolution
More power, better response
Increased power output and enhanced coordination between the BEAMS*1 1NZ-FXE engine (1.5-liter inline 4-cylinder with VVT-i*2) and the permanent magnet electric motor combine to give the re-fitted Prius a more-than-20% improvement (as calculated by TMC) in smooth and powerful 80-100km/h acceleration.
Motor-only top speed has risen to 65km/h (from 45km/h), while ride quietness has also been enhanced. A more naturally feeling regenerative brake system and better engine braking makes for improved braking performance.
Moreover, a refined steering sensation has been achieved by adding a variable gear ratio to the Prius' rack and pinion mechanism and by optimizing control of the electric power steering system.
*1Breakthrough Engine with Advanced Mechanism System: a state-of-the-art engine with advanced mechanisms.
*2Variable Valve Timing-intelligent: a continuously variable valve timing mechanism
Leaner and greener
In addition to its ultra-fine mist fuel injector and optimized engine control, the improved Prius uses a three-way catalyst with an ultra thin wall (0.05mm; much thinner than conventional types) and a high cell density ceramic substrate. As a result, NOx and HC levels have been reduced to more than 75% below regulated values for 2000, meeting the emissions levels set by Japan's Transportation Ministry as standards for J-ULEVs.
By using a stainless steel exhaust manifold and moving the three-way catalyst much closer to the engine, the improved Prius enhances the effectiveness of catalyst warming immediately after the engine is started.
A number of features give the improved Prius an outstanding fuel consumption of 29.0km/liter (in the Japanese 10*15 test mode). Friction in the engine and hybrid transaxle has been reduced, motor efficiency has been enhanced, and the motor-only range has been increased. Also, the hybrid vehicle battery, inverter and other parts are now lighter, resulting in a weight savings of some 20kg.
Air conditioner compressor efficiency and vehicle insulation have also been upgraded to prevent heat buildup in the interior, resulting in a 20% to 30% reduction in fuel consumption (as calculated by TMC) when using the air conditioner during city driving.
Also, the amount of time needed until the engine is automatically switched off has been shortened during warm-up, improving fuel economy.
Sharper and Classier
The front/rear bumpers, which were partially dark gray, have been enlarged and completely matched in color with the body panels. The headlights, rear combination lamps and partial-covering hub caps for the Prius' aluminum wheels have been redesigned for a more-unique appearance. Sharp-looking chrome door belt molding along the window edges has been added to create a higher quality image.
Blue mica metallic, white pearl mica (option), silver metallic graphite and two other new color choices have been added to the two existing exterior panel colors.
The newly designed three-spoke steering wheel, with a central aluminum ornament, wood grain switch panel (dark gray), and chrome air conditioner register knobs, give the interior a more luxurious look.
Enhanced Driving Safety
Water repellent front door glass and rain clearing mirrors have been added to improve visibility in the rain. In addition to outstanding driving stability and emergency avoidance, the new Prius achieves exceptional braking performance by appropriately distributing the braking force to the front/rear wheels to precisely match a variety of driving conditions (the state of the load or shifts in load burden due to deceleration). ABS with Electronic Brake Force Distribution (EBD) has also been added to help maintain vehicle stability when braking while cornering or during emergency maneuvering.
All models use upgraded collision-safe GOA*1 bodies, and have passed increased-speed collision tests: 64km/h for the 40% lap offset front collision test, and 55km/h for the full lap front collision test and side collision test.
Also standard is an infant/child restraint seat anchor that conforms to ISOFIX*2 standards. The anchor, located in the space between the back and the bottom of the vehicle's rear seat, allows one-touch operation in securing restraint seats, thus enhancing convenience and safety. (Non-ISOFIX restraints seats can be attached using conventional methods.)
*1Global Outstanding Assessment: a world-class safety evaluation
*2A child restraint seat fastening method specified by the International Organization for Standardization (ISO)
New Grade and Other Features
A G grade has been added to the lineup featuring an in-dash CD changer, cruise control, leather-covered steering wheel and shift-lever knob, and special seat fabric and door trim.
The newly developed compact, lightweight, high-performance nickel-metal hydride battery (hybrid vehicle battery) in the trunk allows more room for luggage, and the 60:40 collapsible rear seats enable free access to the trunk. Together with the addition of a center armrest, these features give a new dimension to the Prius' utility.
The 5.8 inch Electro Multivision screen has been made touch-sensitive for easier operation. A DVD voice navigation system, which greatly reduces the time needed for route finding and which can pinpoint individual street addresses, is optional and features a FM multiplexed broadcasts reception function and is compatible with a VICS receiver (dealer-installed option) and Toyota's driver information service MONET.
The center cluster layout has been redesigned to incorporate features such as a standalone clock display, and the audio system features an optional MD player.
A new "Stylish Package" option comes with UV-cut shaded glass (in the rear glass (in the rear doors and rear window) to help reduce heat load and improve fuel economy when using the air conditioner, a drag-reducing rear spoiler for improving fuel economy at high speeds and high-quality super chrome metallic wheel caps.
Welcab Features
All the above-mentioned improvements can also be found in the TECS Welcab (specially equipped vehicles with factory-installed features for the handicapped) versions of the Prius―the Rotating Front Passenger Seat model Type A and the newly added Rotating Front Passenger Seat model Type B, which has an electric crane for loading and unloading a wheelchair and wheelchair tie-down straps.
Sales Outline
Sales Outlets

Toyota Dealers nationwide (Toyopet in the Osaka area)
Monthly sales target

1,500 units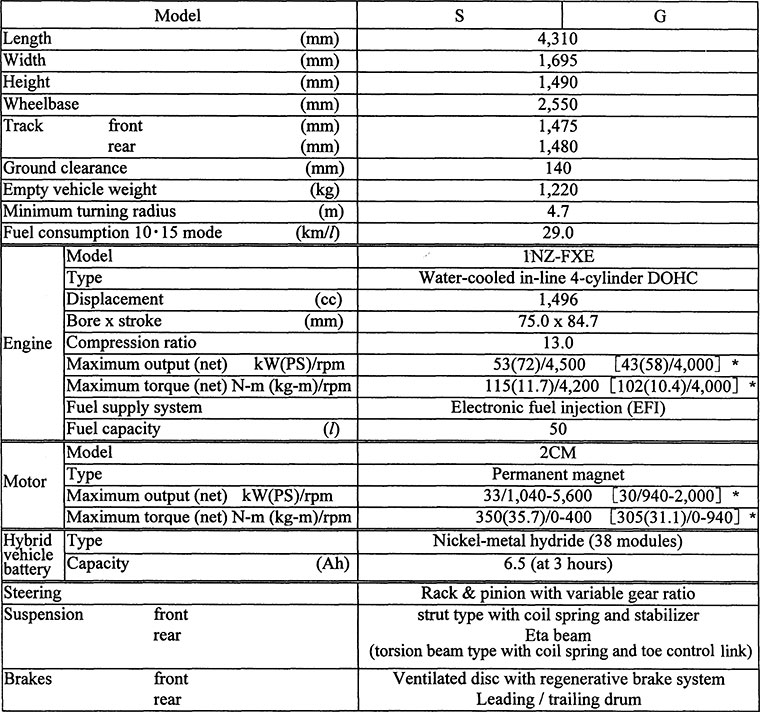 *Figures in [ ] are comparative figures for Prius with previous version of THS.