Sep. 18, 2015
The Future, the Innovative, and the Legends: Toyota at the 2015 IAA Frankfurt Motor Show
Toyota has landed at the biennial 2015 IAA Frankfurt Motor Show with a whole range of exciting products and concepts. The event opened its doors to the public yesterday and, over the next week or so, is expected to attract upwards of 1,000,000 visitors—including German Chancellor Angela Merkel, who stopped by the Toyota stand.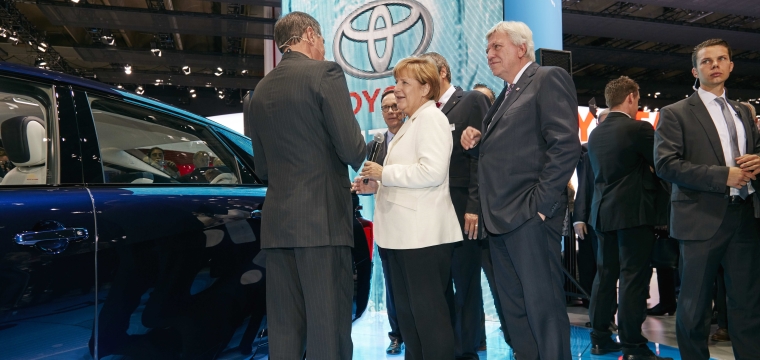 This special feature is a compilation showcasing the Toyota stand in the form of specially crafted guided video tours and photographs straight from Frankfurt, Germany. For more information about Toyota at the 2015 IAA Frankfurt Motor Show, visit our special microsite here.
Toyota Press Conference
Frankfurt marked the first appearance at a European motor show by Dr. Johan Van Zyl in his new role of president and CEO of Toyota Motor Europe (TME). Dr. Van Zyl presented results and future plans for Toyota's operations in Europe, while Executive Vice-President of TME and Managing Officer of Toyota Motor Corporation Karl Schlicht guided the audience through the various new Toyota products and concepts on show.
New Toyota C-HR Concept
The first Toyota C-HR Concept, a compact hybrid crossover, wowed audiences when it debuted around a year ago at the 2014 Paris Motor Show. The new five-door version, with its diamond-inspired design language, is already getting the attending media talking in Germany. Not to give too much away, but except to see a production version making its first global appearance at the 2016 Geneva Motor Show in March next year.
New Toyota Prius
First unveiled a week ago in Las Vegas, the much anticipated fourth generation of the Prius—Toyota's original full hybrid—has been designed to redefine expectations of hybrid vehicles, featuring ground-breaking styling and new standards in fun-to-drive dynamics.
New Toyota RAV4 Hybrid
When the Toyota RAV4 was launched in 1994, it created an entirely new segment in the automotive industry. Just over 20 years later, the compact SUV segment is one of the most highly competitive markets in Europe. And now, Toyota will be introducing its first full hybrid variant to the marketplace.