Jun. 07, 2016
Toyota Exhibits the Camatte Capsule Trailer with
Customizable Interior at the Tokyo Toy Show
Tokyo, Japan, June 7, 2016―Toyota Motor Corporation will exhibit the "Camatte Capsule1" trailer, at the International Tokyo Toy Show 2016 to be held at Tokyo Big Sight (located in Koto-ku, Tokyo) for four days2 from June 9 through 12. The interior space of this new design can be customized as a joint activity for parents and children to share.
Out of a desire to convey the joy and dreams of motor vehicles to the next generation and to encourage children to become more familiar with cars, Toyota has been exhibiting various types of Camatte vehicles at the Tokyo Toy Show every year since 2012. The hope is to create an opportunity for parents and children to enjoy interacting with and talking about cars together.
Up until last year, the main focus of the Camatte exhibit has been on the vehicle exterior, allowing children to exchange exterior panels and make design customizations. This year, the focus has shifted to the interior space with the Camatte Capsule: a trailer with an interior space can be customized. The Camatte Capsule is equipped with a system that allows children to freely visualize what they might want to do or place inside of a car, and to project the space they have designed on three screens positioned around the inside of the vehicle.
Camatte Capsule

Customized Camatte Capsule
Description of the hands-on experience and procedure
Using a tablet terminal in which an application developed for the exhibit has been installed, a child first chooses one of six color patterns, and then selects and positions a maximum of 8 out of 24 items one might find in daily life (such as furniture, appliances, or musical instruments).
While experiencing a virtual space consisting of the selected colors and items projected on the three screens inside the Camatte Capsule, parents can then hold a dialogue with their child about the space (the world) they have designed.
Camatte Capsule Basic Specifications
| Length | Width | Height |
| --- | --- | --- |
| 3,785 mm | 1,500 mm | 1,845 mm |
Additionally, several Camatte vehicles will be exhibited as towing a Camatte Capsule. These are the "Camatte Sora" (displayed in 2012), "Camatte 57s" (displayed in 2013), and the "Camatte Hajime" (displayed in 2015). The exhibit as a whole will thus offer visitors a wide variety of hands-on Camatte experiences.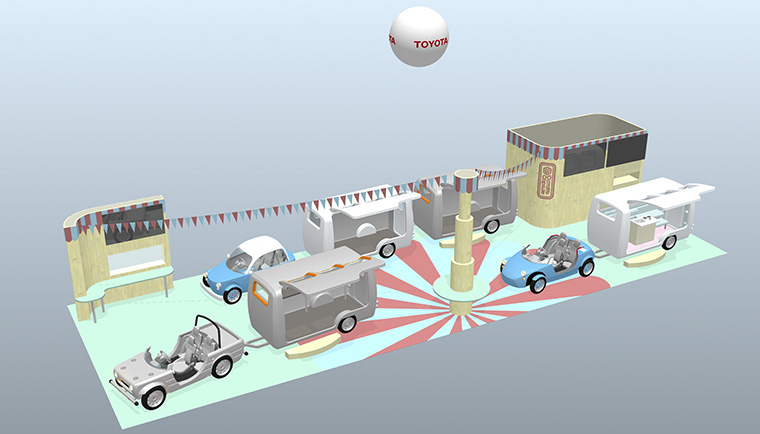 CG model of the Toyota booth
Reference

Overview of the Camatte Series to date
Toyota exhibited the first Camatte vehicle in 2012. The Camatte Sora could be driven by children, who could also customize its colors and style using easily removable and installable body panels. In 2013, Toyota debuted the Camatte 57s, whose body exterior consisted of 57 detachable small panels that could be assembled like a puzzle. Then, in 2014, Toyota displayed the Camatte Lab, which allowed children to display pictures they had drawn on the hood of the car while getting an up-close look at the inner workings of the car throughout the entire booth. In 2015, Toyota exhibited Camatte Hajime along with Camatte Vision, which employed AR3 in order to enable children to enjoy a simulated experience of driving a car specified to their liking through town.
1The name Camatte is based on the Japanese word for caring and is meant to signify "caring for others" and "caring for cars". "Capsule" refers to a space (a world) that children can create freely.
2Buyer's daysJune 9-10; public daysJune 11-12
3Augmented Reality is technology that displays virtual information in addition to real world imagery.