Dec. 22, 2016

Toyota 'Coaster' Undergoes Model Change After 24 Years
Outstanding safety is enhanced with improved body rigidity through the use of a ringed body frame, the first use of Vehicle Stability Control (VSC) in the minibus segment in Japan; and Supplemental Restraint System (SRS) airbags installed as standard in driver and front passenger seats
A taller and wider cabin, enhanced quietness, and a stable ride have been combined to create a comfortable and relaxing interior
A simple, square cabin and a powerful underbody are fused in a modern exterior design that appears tough enough to be used in a wide variety of conditions
Toyota City, Japan, December 22, 2016―Toyota Motor Corporation will launch the completely redesigned Toyota Coaster at Toyota dealers (Osaka Toyopet dealers in the Osaka region) nationwide across Japan on January 23, 2017.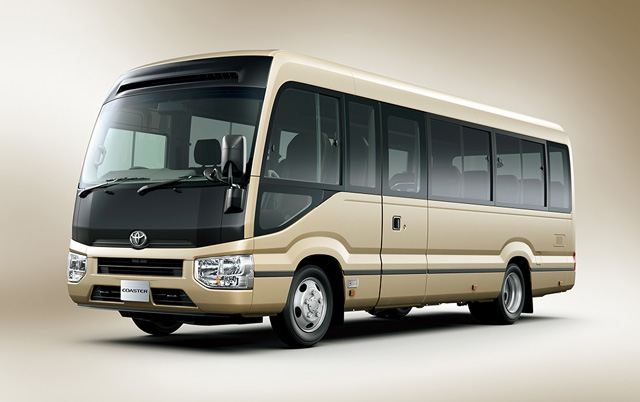 EX
(29-passenger, 6-speed automatic transmission vehicle; options shown)
The Coaster was first launched as the "Light Bus" in 1963, in response to increased demand for a minibus that could approximately seat 25 passengers comfortably. In 1969, the vehicle underwent a partial redesign and was later renamed Coaster―a name which it has continued to use for over the past 50 years. The Coaster supports the movement of people around the world. At present, it is for sale in over 110 countries and regions, and total sales have now exceeded 550,000 vehicles. The Coaster is also regularly seen in Japan, where it is used in a variety of situations including the transportation of passengers to and from restaurants, hotels, and kindergartens1.
The current, third-generation Coaster was launched in 1993. While this model has received praise for its outstanding reliability, there have been growing calls for a new design that incorporates the full safety features package. In addition, since the revitalization of the tourism industry is expected to lead to increased demand for minibuses, Toyota has aimed to develop a vehicle that will be cherished and ridden for many years to come. This complete redesign marks a significant evolution from the current model, and features a full range of safety functions, improved comfort, outstanding reliability, and a design appropriate for a new generation of minibuses.
The Coaster is the first vehicle to undergo a complete redesign under the supervision of the CV Company, which was established in April this year to carry out the development of commercial vehicles from the planning to production stages. The CV Company is an in-house company that oversees the development of vehicles that continue to support the lifestyles of people from various regions around the world. Going forward, the company will continue to engage in the creation of ever-better commercial vehicles.
Vehicle Outline
Outstanding body rigidity and a full range of safety equipment

The Coaster utilizes a ringed body frame which unifies the roof, sides, and floor frame sections. The use of high-tensile steel plates further contributes to a rigid body that complies with the ECE2 Regulation 663 (Rollover) global safety-performance standard.
VSC, which ensures safe driving by controlling sliding and other movements when cornering, is used in the minibus segment for the first time in Japan.
SRS airbags are installed in the driver and front passenger seats as standard features. The vehicle also provides passenger safety and a peace of mind for our customers in the event of an emergency through the use of pre-tensioners, which instantly takes up seatbelt slack and secure passengers, as well as the use of force limiters, which reduces the force applied to passengers' chest regions.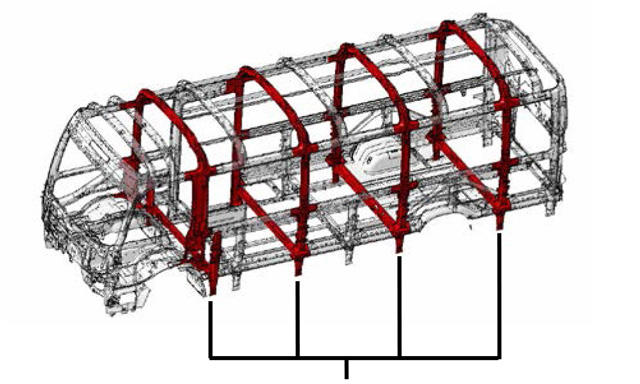 Ringed body frame
Function and Hospitality―a spacious and luxurious cabin

The Coaster features a cockpit that enables the driver to focus on driving: the windshield openings have been widened to expand the driver's field of view, while an optimal distribution of function switches, as well as compartments around the driver's seat help minimize the need for the driver to shift his or her line of sight.
The cabin space has been heightened by 60 mm, and the windows have been moved outwards by approximately 40 mm, thus providing enough space for passengers to rest their elbows. In addition, the side windows have increased in height by 50 mm, which creates a comfortable and open passenger space.
The doorsteps have been lengthened by 65 mm to improve ease of ingress and egress.
The distance between the room racks and the roof of the vehicle has been increased by 60 mm to improve storage, while the room racks have been moved 140 mm to the outside of the cabin to make it easier for passengers to sit down and stand up.
The use of UV cut glass in the side windows contributes to the creation of a more comfortable interior space
The seat covers on the EX model combine synthetic leather and fabric with double stitching so as to create a sense of luxury. The seat cushions also use low-rebound polyurethane to improve comfort when seated.
Cabin space (compared to current models)

Interior of the EX
A quite interior and a stable, comfortable ride

Improved body rigidity due to the ringed body frame, adjustments to engine cover structures, enhanced body-seal structures, and the optimal distribution of soundproofing materials all contribute to improved cabin quietness.
The suspension features front and rear stabilizers, as well as optimized shock-absorber damping forces. Together with the improved body rigidity, this helps to realize a stable ride.

Modern and Tough―an attractive exterior design

The roof features chamfers to realize a simple yet attractively modern design.
The square silhouette of the body emphasizes on the spaciousness of the cabin.
Character lines divide the side of the vehicle into upper and lower regions while the underbody accentuates the area around the wheels, thus revealing a sturdy body that provides powerful support for the cabin.
The Coaster is available in six exterior colors, including beige-metallic and white
Sales Channels
Toyota dealers nationwide across Japan (Osaka Toyopet within the Osaka region)
Monthly sales target for Japan
160 units
Assembly plant
Gifu Auto Body Co., Ltd. Honsha Plant
1The School Bus has no front passenger seat. For this reason, only the driver's seat is equipped with SRS airbags.
2Economic Commission for Europe regulations
3An ECE regulation related to strengthening the structure of the upper part of a minibus
Manufacturer's suggested retail prices
Bus
Body type
Seating
Engine
Dliveline
Transmission
Price (Yen)*
LX
Standard
25
N04C-VJ (4.0-liter)
2WD (FR)
5-speed manual
5,940,000
6-speed automatic
6,247,800
Long
24
5-speed manual
6,922,800
6-speed automatic
7,230,600
29
5-speed manual
6,674,400
6-speed automatic
6,982,200
GX
Standard
25
N04C-VJ (4.0-liter)
5-speed manual
6,501,600
6-speed automatic
6,809,400
Long
24
5-speed manual
7,063,200
6-speed automatic
7,371,000
29
5-speed manual
6,814,800
6-speed automatic
7,122,600
N04C-VK (4.0-liter)
6-speed automatic
7,813,800
EX
Long
24
N04C-VK (4.0-liter)
6-speed automatic
8,872,200
29
N04C-VJ (4.0-liter)
5-speed manual
8,159,400
N04C-VK (4.0-liter)
6-speed automatic
◎8,623,800
School Bus
Standard
3 adults + 39 children
N04C-VJ (4.0-liter)
5-speed manual
5,810,400
6-speed automatic
6,118,200
Long
3 adults + 49 children
5-speed manual
6,426,000
6-speed automatic
6,733,800
Body type
Seating
Engine
Dliveline
Transmission
Price (Yen)*
Big Van
Standard
9 + 1,250 kg
N04C-VJ (4.0-liter)
2WD (FR)
6-speed automatic
6,193,800
Long
6,771,600
*Includes consumption tax, does not include recycling fees, and differs in Hokkaido and Okinawa.
Link to the "Coaster" webpage (Japanese only)
Downloads (Images)