Oct. 23, 2017
JPN TAXI | COLUMN | The deep indigo JPN Taxis will bring a smile to everyone's face!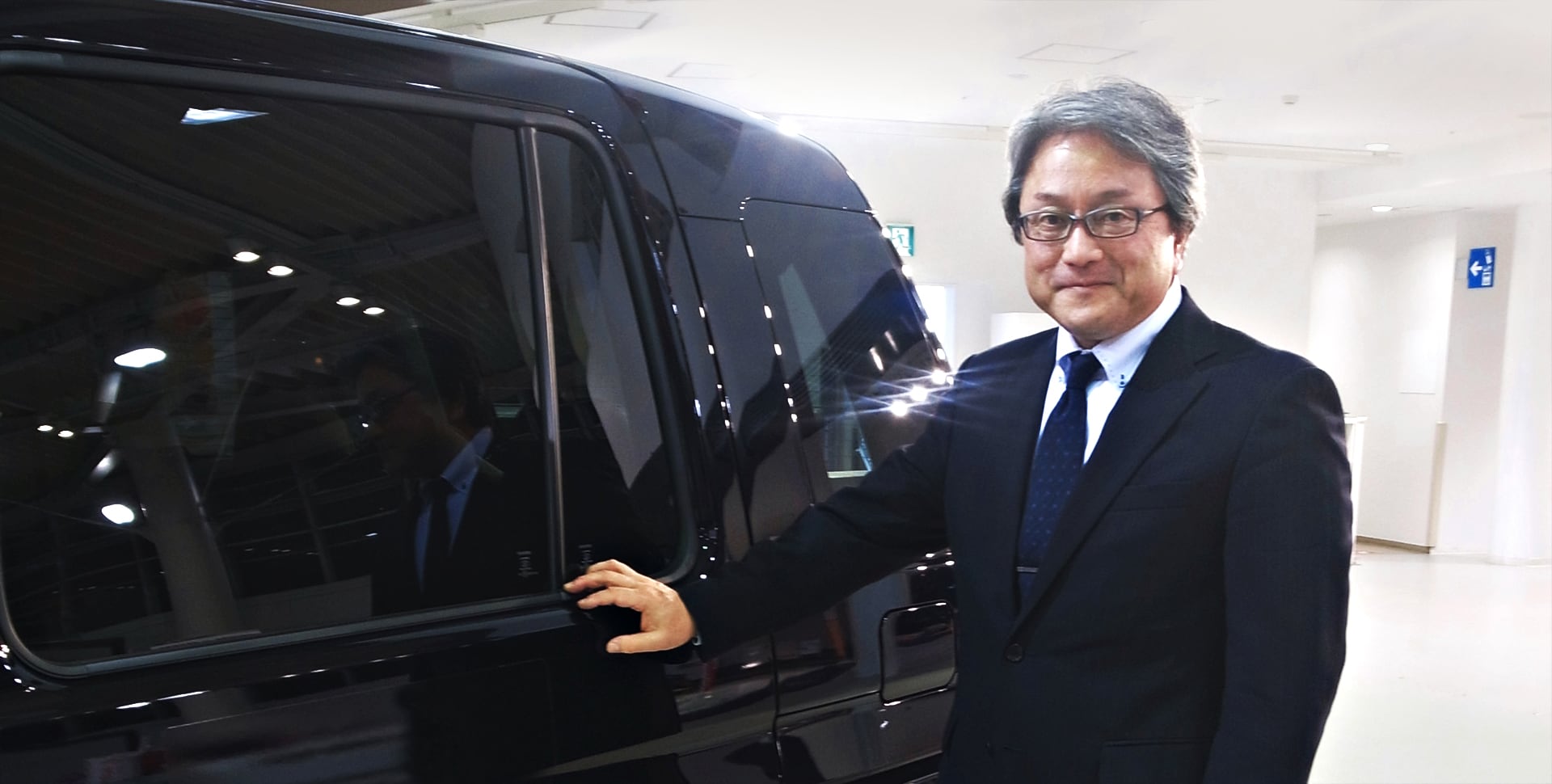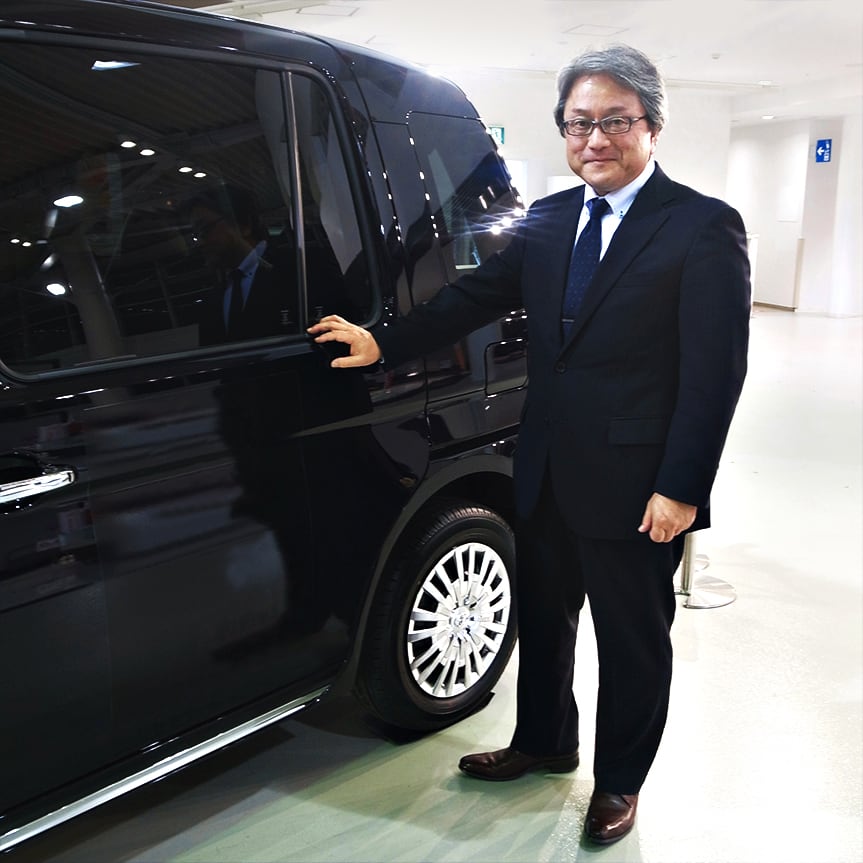 Oct. 23, 2017
The deep indigo JPN Taxis will bring a smile to everyone's face!
-Message from Chief Engineer-
COLUMN
Taxis are symbols of countries and cities and are loved by both residents and visitors alike, and they are an essential means of transport. Japanese taxis, in particular, receive high praise from overseas visitors for the service and hospitality that they offer.
Since the time of the Toyoda Model AA, Toyota Motor Corporation has been closely involved in encouraging the spread of private automobiles and has cultivated reliability and durability through taxis, which often travel long distances. It would not be an overstatement to say that the history of Toyota Motor Corporation has developed together alongside taxis. Nowadays, we see many taxis at stations, airports, hotels, and tourist spots in Japan. For example, often the first sight that overseas travelers see upon their arrival at the airport is taxis. Thus, taxis exert a strong influence on the urban landscape, making them also the face and scenery of Japan.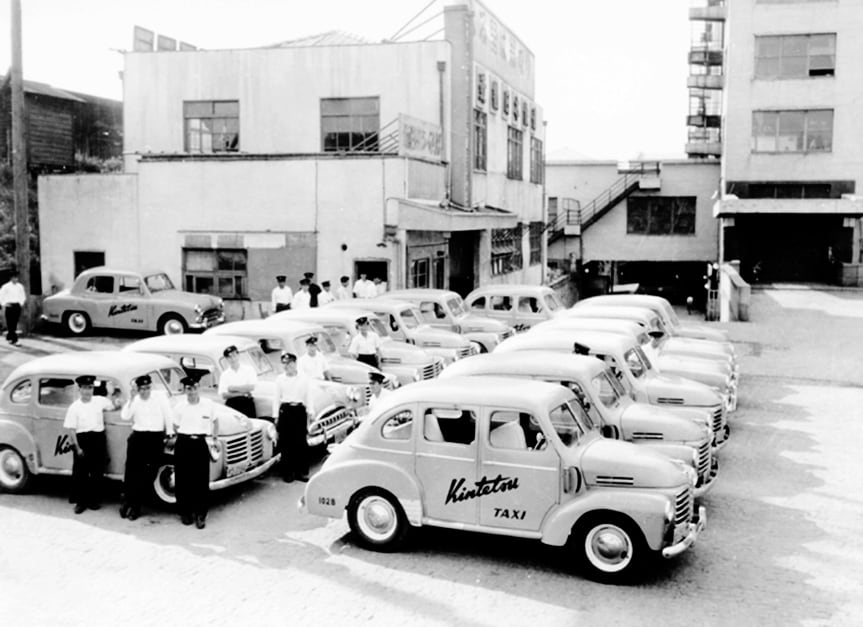 Model SB modified passenger car taxis manufactured by Arakawa Sheet Metal Works*
Arakawa Sheet Metal Works: A body sheet metal processing company in Nagoya City, which later changed its name to Arakawa Shatai, and then to Araco Corporation. Its business was merged into Toyota Auto Body Co., Ltd in December 2004.
I felt slightly anxious when I was appointed to lead the first complete redesign of our taxi model in 22 years. However, an ambitious thought also crossed my mind. What if I could create a uniquely Japanese taxi that would be extremely popular and put smiles on people's faces, making it the pride of our country throughout the world? The members of "Team Rickshaw," my team for next-generation taxi planning, implemented thorough genchi genbutsu ("going to the source to get the facts") activities to this end. We surveyed taxi companies, welfare facilities, and experts across Japan and conducted field surveys on taxi usage in major cities, tourist spots, disaster-affected spots, and hospitals. We even rode alongside taxi drivers to experience and research the day-to-day work of a taxi driver.
As is widely known, Japan is becoming a rapidly aging society. I have seen the elderly and the disabled struggle while entering taxis at hospitals, airports, and stations. This strongly reinforced for me the notion that as a form of public transport, we needed to develop a new type of taxi that could be easily utilized by a wide range of people.
Furthermore, because taxis spend much more time in operation each day compared to a private car, they have a significant impact on the environment. This meant that performance needed to be urgently improved. Moreover, considering the fact that taxis are a form of public transport, they must offer the highest level of safety and security. In contrast to private cars, taxis are the object of concern of three parties―passengers, drivers, and business owners/managers of taxi companies. We needed to create a vehicle that could satisfy all of these parties.
Our aim for the JPN Taxi was to create a comfortable, specialized taxi that reflected Japan's spirit of hospitality and was considerate to a wide range of people including children, the elderly, wheelchair users, and overseas visitors. Specifically, it was given a universal design, with a large sliding door, low flat floor, assist grip configuration, and facilities that enable boarding while seated in a wheelchair to make it easier for passengers to enter and exit the taxi. We aimed to create a taxi that would fit in beautifully with the city landscape. It has a timeless original design that expresses the spirit of hospitality and features a traditional Japanese deep indigo ("koiai") for the body. We were also able to create a comfortable taxi that offers sound environmental performance and fuel economy with the newly developed LPG hybrid system. Additionally, the vehicle offers safety and peace of mind with its advanced safety equipment, which includes Toyota Safety Sense C, six airbags, Intelligent Clearance Sonar, reliable durability, and other various adjustments.
In certain cases, passengers may be prevented from boarding the taxi depending on the shape of their wheelchair or rolling performance. In accordance with transportation rules, individuals may be asked to move to a safe location to board in the event that safety cannot be ensured. Visit the following site for details: http://toyota.jp/jpntaxi/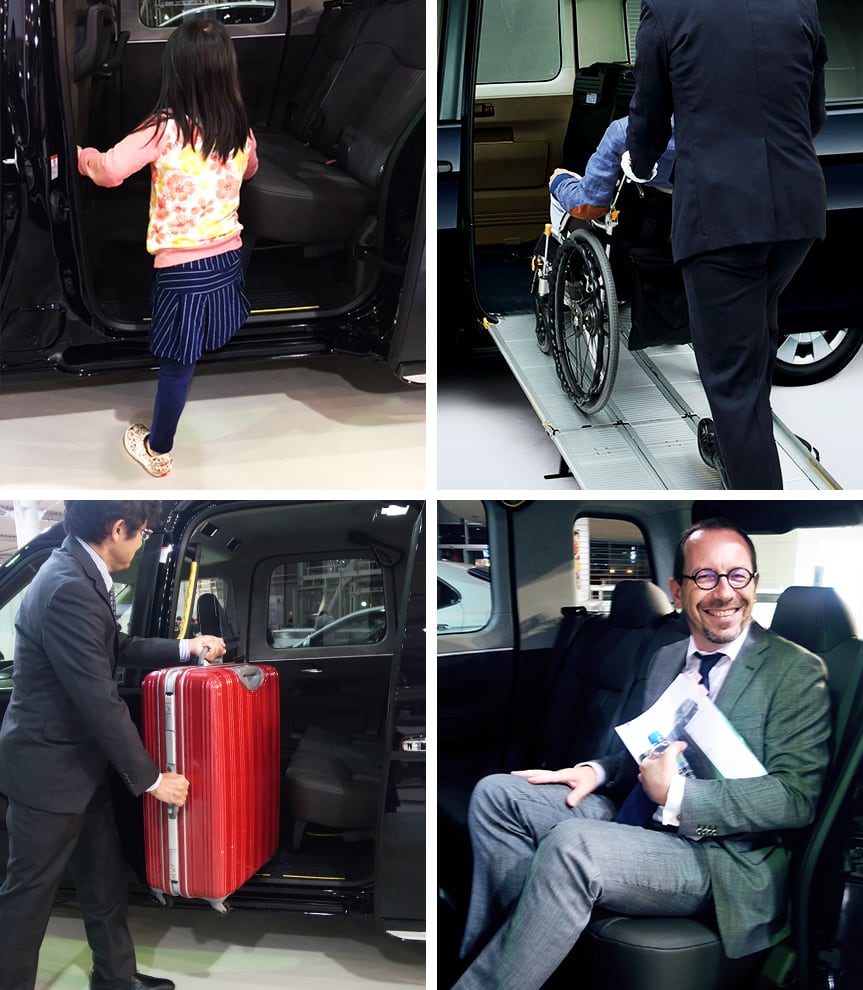 In the lead-up to the Tokyo 2020 Olympic and Paralympic Games, we will encourage the widespread use of this vehicle to create barrier-free and safe cities, and we seek to contribute to the Visit Japan campaign (organized by the Japan National Tourism Organization) aimed at making Japan a travel destination. We are certain that the deep indigo JPN Taxis will bring a smile to everyone's face!
Hiroshi Kayukawa
Chief Engineer, Product Planning
Toyota Compact Car Company
Toyota Motor Corporation
Mr. Kayukawa joined Toyota Motor Corporation in 1984. After working on body designs of many models including the first generation Lexus LS, he was transferred to product planning in 2006. After working as Chief Engineer of the Prius α (Prius V, Prius +) and the Sienta, he was assigned to be Chief Engineer of the JPN Taxi.