May. 10, 1994
Toyota Introduces the RAV4―a New-Concept 4X4
Tokyo―TOYOTA MOTOR CORPORATION announced that from today it will market an all-new 4X4 vehicle called the RAV4―short for Recreational Active Vehicle with 4WD. The RAV4's attractive exterior styling and completely new concept blends conventional passenger car elements with the features of a light, off-road vehicle. Available at Toyota Corolla Dealers and Toyota Auto Dealers nationwide, the new vehicle's sales target is set at 2,000 units per month.
Special features of the compact Toyota RAV4 are its monocoque body construction, independent suspension on all four wheels, and full-time 4WD. The powerful, front-mounted 2.0-liter 16-valve engine can be mated with either a five-speed manual gearbox or four-speed automatic transmission. Available as an option are twin sunroofs made of lightweight aluminum that can be unfastened, removed, and safely stored inside the rear door within seconds for a true soft-top feeling.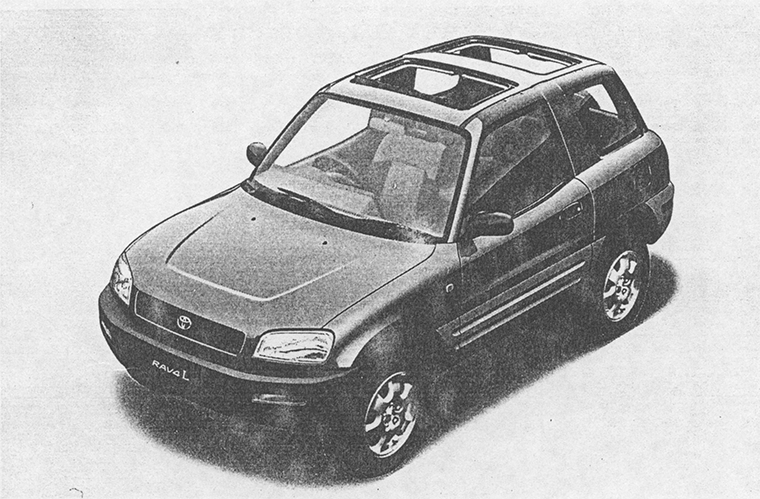 RAV4 L (with options)
The sophisticated construction of the chassis, with independent McPherson strut suspension in front and independent double wishbone suspension with trailing arm in the rear, ensures driving comfort and excellent handling. A powerful brake system with large ventilated front discs and optional ABS with deceleration G-sensor provides for safer braking under all conditions.
The concept behind the RAV4 includes five specific aims: the new model was to provide generous space, a compact, sporty, and progressive body design, and a combination of good off road capabilities with excellent performance and superior on road comfort. It was also to meet the full range of active/passive safety and environmental needs that Toyota requires of all its cars.
As a result, the Toyota RAV4 will not be seen as an off-road vehicle in the same way that the Land Cruiser is, and neither will it present direct competition for similar looking mini-4X4's already on the market. Its concept, appearance, and technical features put it in a class of its own, as an alternative to sporty compacts and the classic off-road vehicle, or simply as the ideal car for those who seek driving pleasure without wanting to compromise either on comfort or every day practicality. The RAV4 made its first appearance as a concept vehicle at the 1993 Tokyo Motor Show.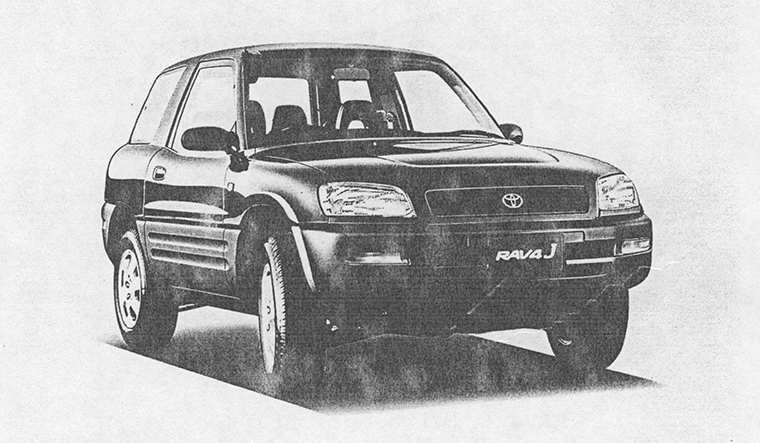 RAV4 J (with options)
Design
Toyota's design staff made the RAV4 "fun" to look at by giving it bold curves and personalized lines. The result is a dynamic-looking vehicle of contemporary styling that fits well in both rural and urban settings. The contoured exterior design boasts an amazingly low 0.39 drag coefficient.
The careful choice of dimensions (L:3,695mm x W:1,695mm x H:1,695mm) makes for a wide yet compact vehicle, and its modern styling is emphasized by the rounded front, with the lines continuing along the large protective side-molding to a gently uplifted rear end.
Four body colors are available: bright blue metallic, dark blue mica metallic graphite, wine red mica, and dark green mica metallic. The colors were specifically chosen to accent the styling.
Among the available options are removable twin roofs panels to provide a true soft-top feeling. They are made of aluminum alloy to reduce weight and allow easy attachment and removal. The front panel and rear panel weigh only 3.6kg and 2.4kg, respectively.
Power Train
The 2-liter twin-cam 3S-FE engine provides high fuel efficiency and outstanding running performance. Torque developed in the low to middle-speed ranges supports both rough off-road driving and city driving.
Chassis
A four-wheel independent suspension―consisting of a newly designed independent McPherson strut suspension in front and independent double wishbone suspension with trailing arm in the rear―ensures driving comfort and excellent handling. Matched with 16-inch wheels, the suspension gives the RAV4 outstanding handling and running stability, excellent highway performance, and riding comfort.
On the five-speed manual transmission version, the central differential is equipped with an manual mechanical lock that provides massive traction power whenever required. The EC Hi-Matic system, used with the four-speed automatic transmission models, provides an effective limited slip for outstanding running performance.
Body
Rather than using frame and carriage-type construction typical of most RV's, an advanced computer structural analysis was used to design a self-supporting monocoque steel body. The centimeters saved below the floor translates into improved interior height, which means ample headroom for both up front and in the rear. High-tensile strength steel for the hood, doors, and other parts achieve reduced weight and high rigidity. As a result, the body responds quickly to handling, and suppresses vibration and noise.
Interior
Ease of use, harmony, and versatility were key to the development of the interior. A choice of over 100 options effectively allows the driver to set the vehicle's specifications―making the car fun to own and drive.
The instrument panel features large easy to read meters, while switches and buttons are practical and easy to operate.
Storage compartments in the instrument panel, the doors, the center console, and the rear side walls provide ample space.
A design feature that shows full consideration toward driver and passengers is reflected in the placement of cup holders on the center front console and on either side of the rear seats.
The ergonomically contoured seats are particularly comfortable, holding the occupant securely and yet allowing easy access. Extra-long forward and rear movement and height adjustment of the driver's seat allows for optimal comfort and vision. The rear seats are divided and can be folded into various arrangements. Both the front and rear seats are fully reclinable.
Options
Options that accent convenience include an umbrella holder and rear door side pockets, while those that emphasize the RV image include a side locker guard and a rear step bar. Among other items available are a small interior table and a side tarpaulin.
The contemporary styling can be highlighted with additional door moldings, a spare tire cover, and other options. Additionally, a choice of body stripe options heighten the paint colors, a front hood deflector makes the vehicle's front view more striking, and a luggage frame shelf doubles as a lattice barrier to separate the luggage space and rear seats.
Active Safety
Given the RAV4's outstanding suspension, braking system, and high-rigidity body, the responsiveness of the vehicle is extremely high. G-sensing 4-wheel ABS, rear TORSEN limited slip differential, and other options provide active safety support over a wide range of driving conditions.
Passive Safety
When an accident does occur, the Crash Impact Absorption Structure (CIAS) transfers the impact energy beneath the sturdy passenger cell via the underbody structure and multiple body reinforcements. An SRS airbag is also available as an option to give the driver added protection.
Environmental Considerations
Special efforts have been made to promote the recycling of resources in the production process by using unpainted resin components such as bumpers, and by marking the composition of resin materials for easier recycling. Also, environment-friendly HFC134a coolant has been used for the air-conditioning system.