Dec. 06, 2016
Features of Toyota's New Powertrain
Dec. 06, 2016
Features of Toyota's New Powertrain
Feature
Toyota Motor Corporation, in pursuit of superb driving and environmental performance, and based on the Toyota New Global Architecture (TNGA) structural reform for making ever-better cars, has developed advanced engines and transmissions and further evolved its hybrid systems. Toyota intends to deploy these new powertrain units in a rapidly broadening range of vehicle models, starting in 2017.
Click here for more information on the development of the new powertrain based on TNGA
New 2.5-liter Direct-injection, Inline 4-cylinder Gasoline Engine
Engine that pursues world-class top level thermal efficiency, high power and swift response is based on the framework of a high-speed combustion and a variable control system.
As of November 2016, according to Toyota survey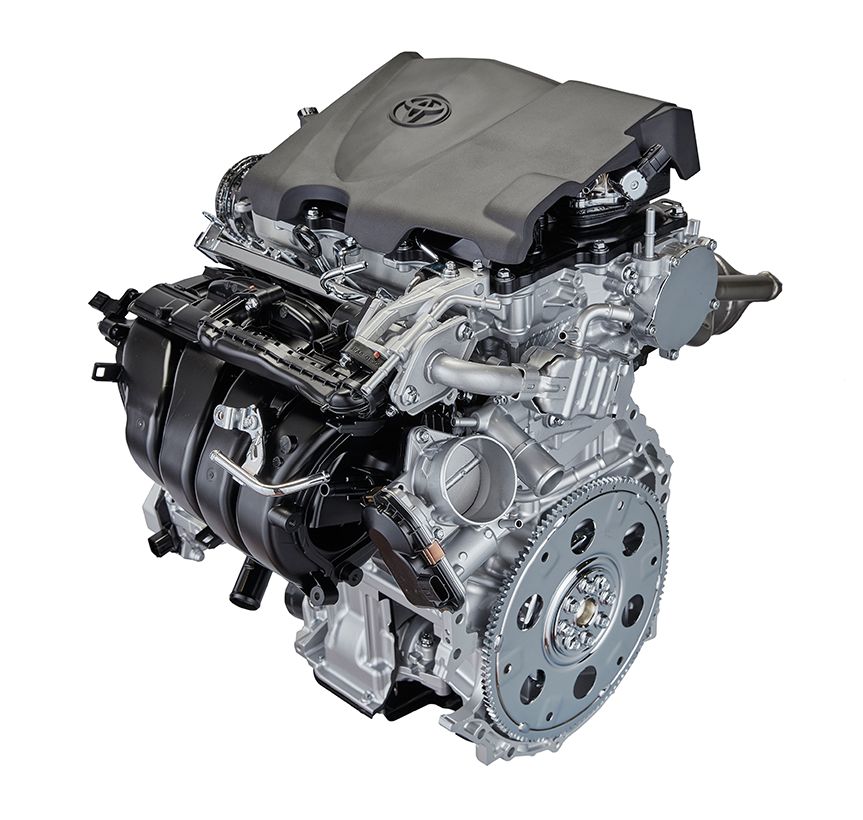 New 8-speed and 10-speed Automatic Transmissions
(Direct Shift-8AT & Direct Shift-10AT)
Transmission which contributes to higher fuel economy and dynamic driving performance with world-class top level transmission efficiency and a widened the lock-up range.
As of November 2016, according to Toyota survey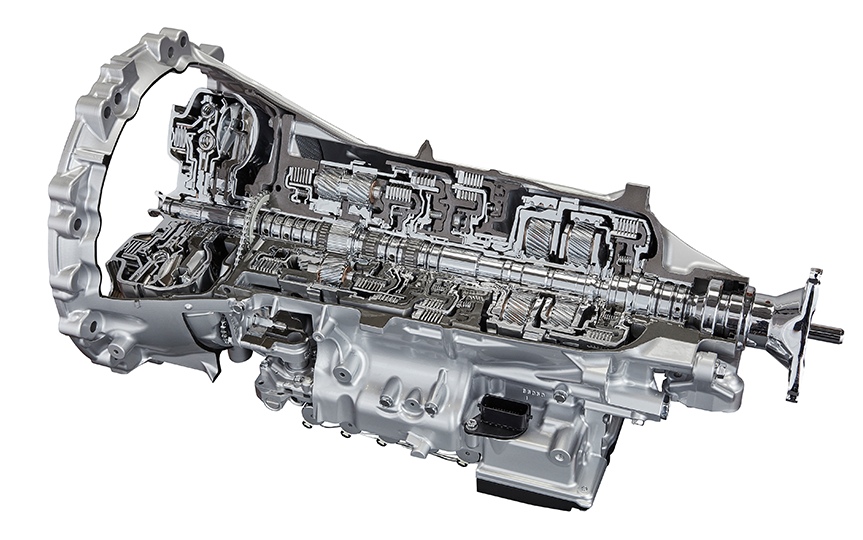 Advancement of Toyota Hybrid System II (THS-II)
Hybrid system which achieved outstanding driving performance and high fuel economy at a high level by reducing size and weight and energy loss of the system, and TNGA engine's high quality together.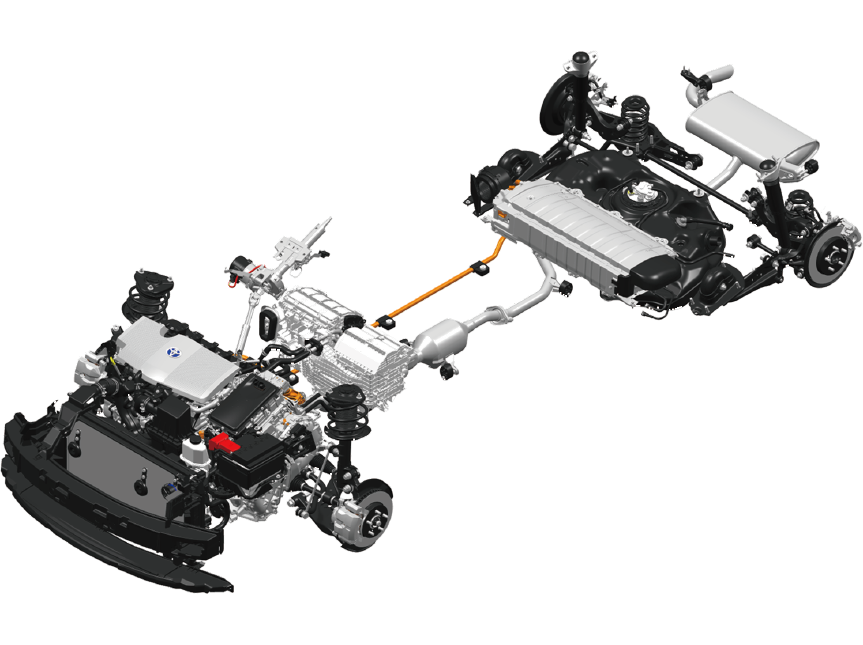 Developmental Theme "Direct & Smooth"
While it was a given that the new powertrain units would be designed to have a high level of environmental performance, development focused on achieving driving performance that would "change how Toyota cars drive", under the theme "Direct & Smooth".
For Toyota, the starting point of making cars is "fun to drive"—the feeling of joy that comes when behind the wheel. Toyota aims to make cars with driving performance that responds to the will of the driver and are, at the same time, highly fuel efficient, among having other environment-friendly attributes.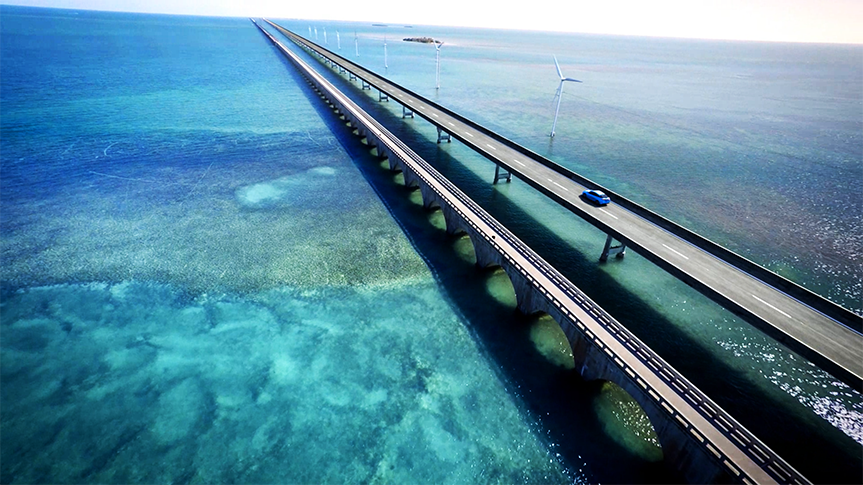 Makes possible driving in line with driver's intentions
1. Start

Smooth starting performance in line with driver intentions
2. Following

Linear and highly responsive driving
3. Overtaking

Rhythmical and comfortable acceleration
Achieve both better driving performance and better environmental performance
The new powertrain units announced today, in themselves, provide approximately 10 percent better power performance* and approximately 20 percent better fuel economy. Combining the new powertrain units with the overall evolution of the vehicle body, including aerodynamics, weight reduction and others, can open the way to even greater power performance and fuel economy.
| | |
| --- | --- |
| * | In terms of time needed for a gasoline-powered vehicle to accelerate from 0 miles per hour to 60 miles per hour and for a hybrid vehicle to accelerate from 40km/h to 70km/h |
New powertrain contributes to fuel economy and driving performance significantly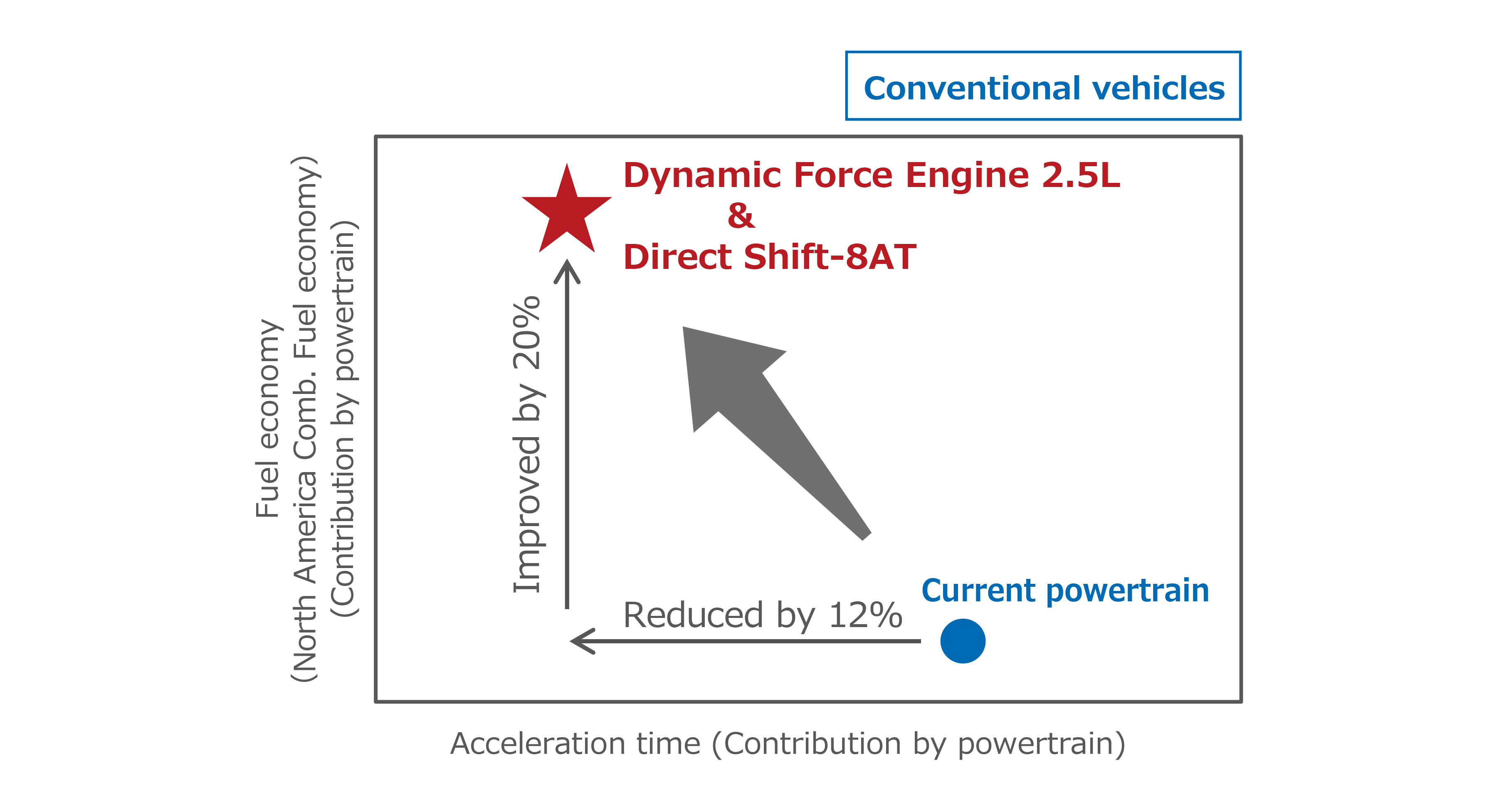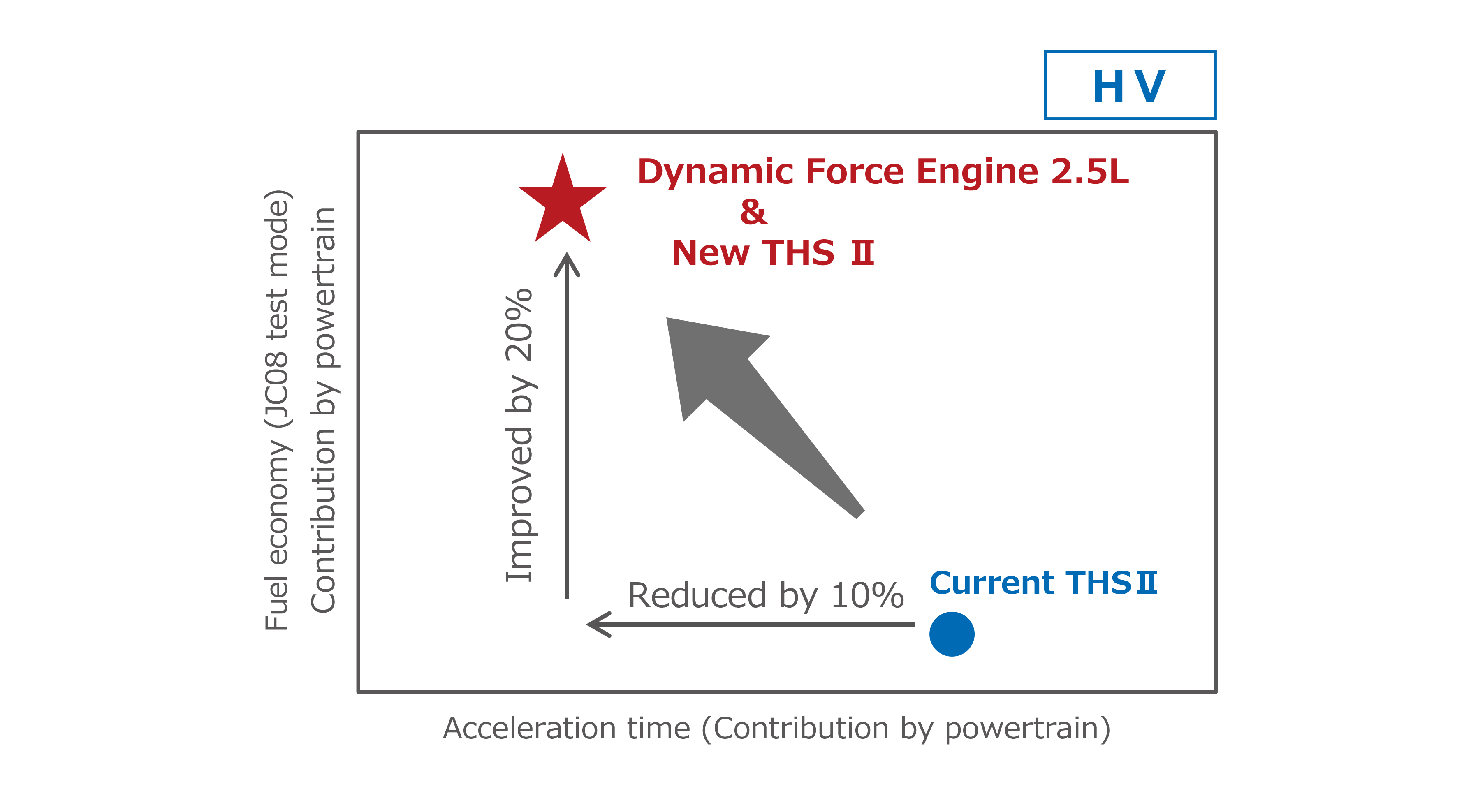 Improve and maximize efficiency of powertrain systems (engines/transmissions/HV systems)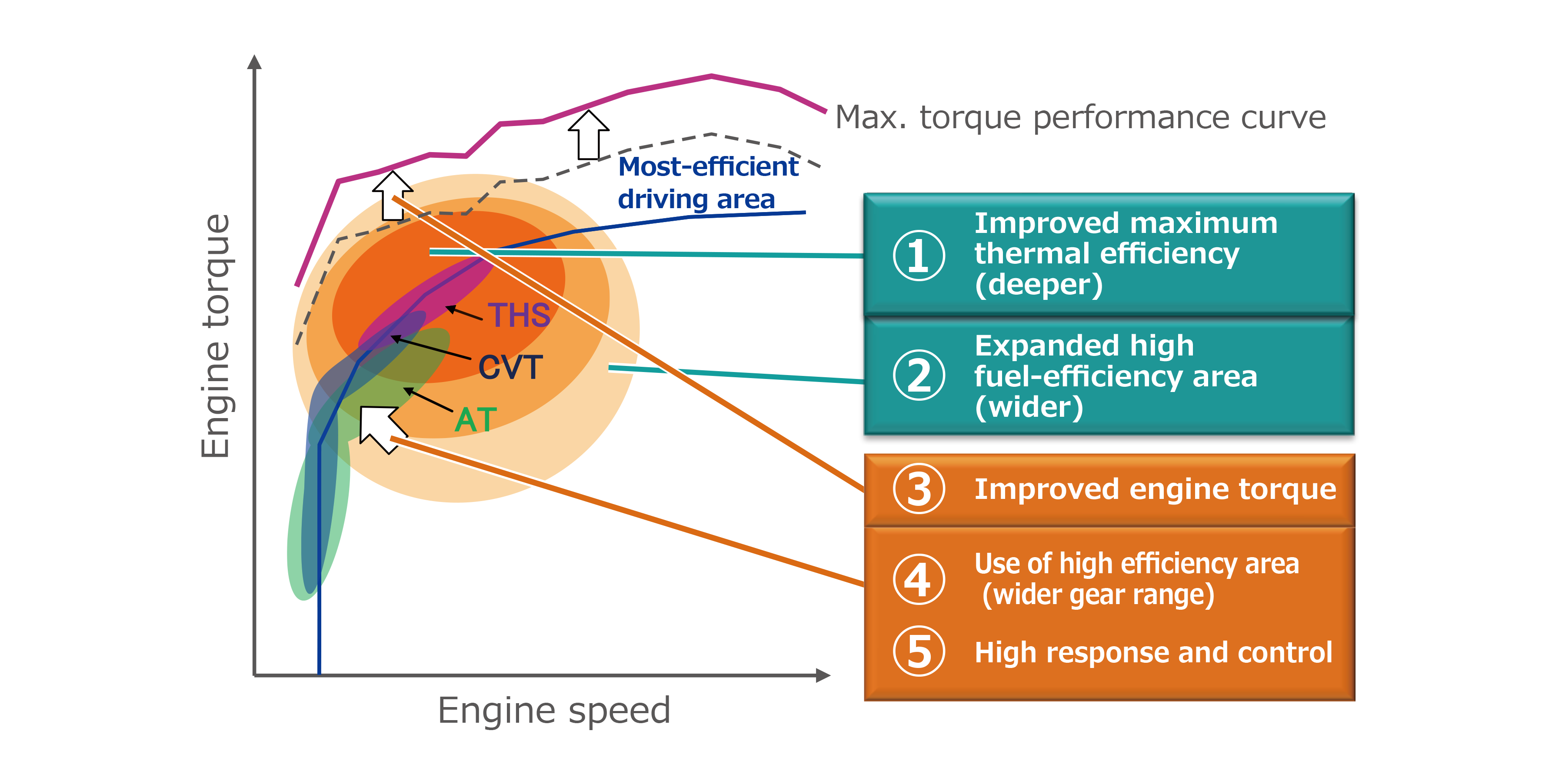 Roll-out of New Powertrain Units
Through TNGA-based car-making, efficiencies have been achieved in the development of the base technologies of the new powertrain units, along with improvements in quality, making possible the concerted release of affordable, high-quality products. This will lead to Toyota being able to quickly provide its customers with ever-better cars and to further promote widespread use of environment-friendly, fuel-efficient vehicles.
Introduce 37 new variations of 19 models
Within the five years to the end of 2021, Toyota plans to introduce 17 versions of nine engines, including the 2.5-liter engine announced today, 10 versions of four transmissions, including multi-geared automatic transmissions and a new kind of continuously variable transmission, and 10 versions of six hybrid systems.
60% or more of vehicles sold* will feature new powertrain components, reducing CO2 emissions by 15% or more* (powertrain contribution compared to 2015)
In this way, through TNGA-based modular development, Toyota will roll out numerous types of new powertrain units within a short timeframe, successively introducing them in various vehicle models, starting with the launch of a new-model vehicle in 2017.
By the end of 2021, Toyota aims to have the new powertrain units feature in 60 percent or more of Toyota-brand and Lexus-brand vehicles sold annually in Japan, the United States, Europe and China. Toyota forecasts that Toyota and Lexus vehicles sold that year in those markets will account for a CO2 reduction in those markets of 15 percent or more, counting the fuel-efficiency-improvement contributions made by the new powertrain units alone.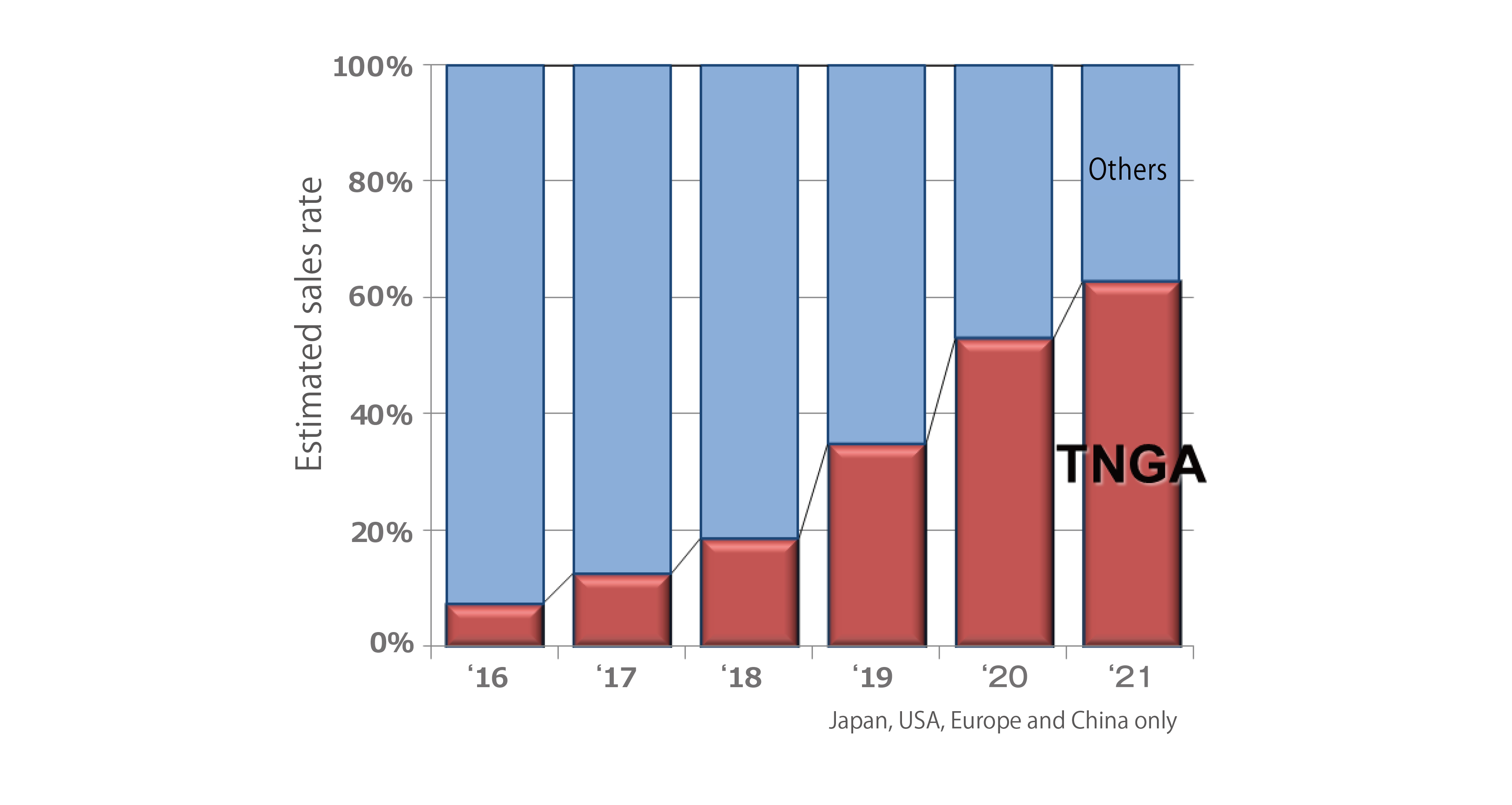 *
Comparison of average amount of CO2 emitted by Toyota and Lexus vehicles actually sold in 2015 in Japan, United States, Europe and China and average amount of CO2 emitted by Toyota and Lexus vehicles planned to be sold in 2021 in Japan, United States, Europe and China, including vehicles equipped with newly developed powertrain units
Estimated CO2-reduction contribution made only by newly developed powertrain units based on certified data in each country or region