Dec. 06, 2016
New 8-speed and 10-speed Automatic Transmissions (Direct Shift-8AT & Direct Shift-10AT)
Dec. 06, 2016
New 8-speed and 10-speed Automatic Transmissions (Direct Shift-8AT & Direct Shift-10AT)
Feature
Toyota has developed two new automatic transmissions―the 8-speed Direct Shift-8AT and the 10-speed Direct shift-10AT. For both, various measures were taken to minimize energy loss and heighten transmission efficiency. Gear tooth surfaces were processed using a new technique for a lower coefficient of friction when the gears engage, and the configuration of the friction material used inside the clutch was optimized to reduce clutch torque loss by approximately 50 percent during rotation (compared to a conventional 6-speed transmission). These and other efforts resulted in achieving one of the world's best transmission efficiencies*. The new automatic transmissions are more compact and lighter than comparative conventional transmissions, lowering a vehicle's fuel requirements. And their lower center of gravity results in both improved straight-driving stability and better cornering stability.
Furthermore, widened gears and a newly developed high-performance compact torque convertor combine for a broader gear lockup range. The resulting quick and smooth response to accelerator pedal operation creates an "as desired" direct driving feel.
In the case of the Direct Shift-10AT, even though the number of gears has been increased to 10 (compared to eight gears in the case of the Direct Shift-8AT), the use of close-ratio gears optimizes the range of use of each gear, particularly in the low-to-mid speed range. The resulting smooth gear changes, which are among the world's quickest*, create a rhythmical and comfortable sensation that is suitable for a premium rear-wheel-drive vehicle.
As of November 2016, according to Toyota survey
New FF 8-speed Automatic Transmission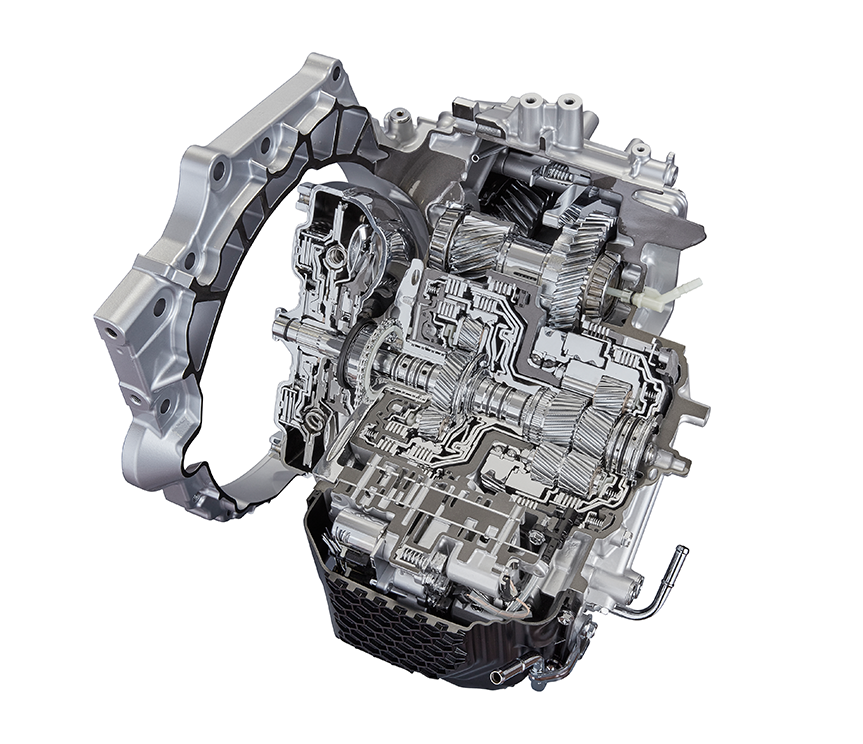 New FR 10-speed Automatic Transmission
In addition to its high basic performance which is common with the Direct Shift-8AT, an exhilarating driving performance for FR premium car is pursued
Adopting a close-ratio transmission, and its world-class top gear change speed helps to ensure smooth driving
Directly responding to the driver's accelerator operation
About the details of Performance / Details of the new technologies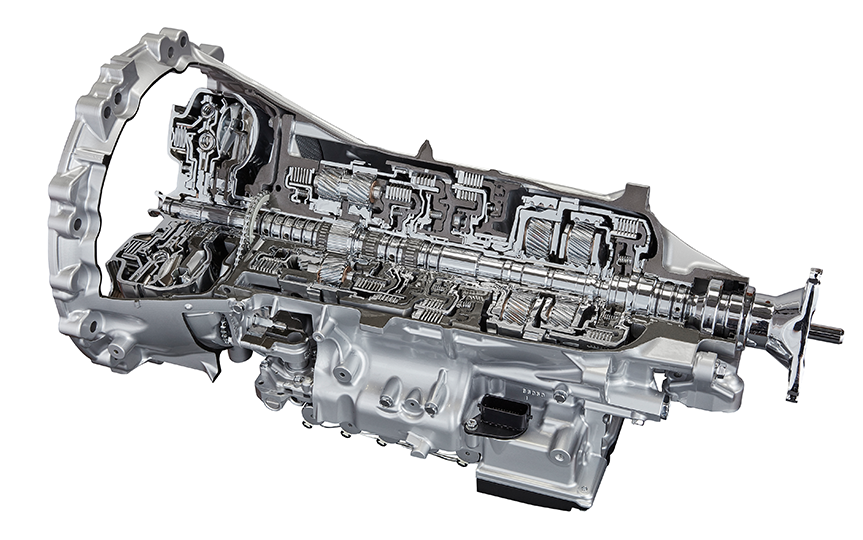 Performance of Direct Shift-8AT
Achieved world-class top level transmission efficiency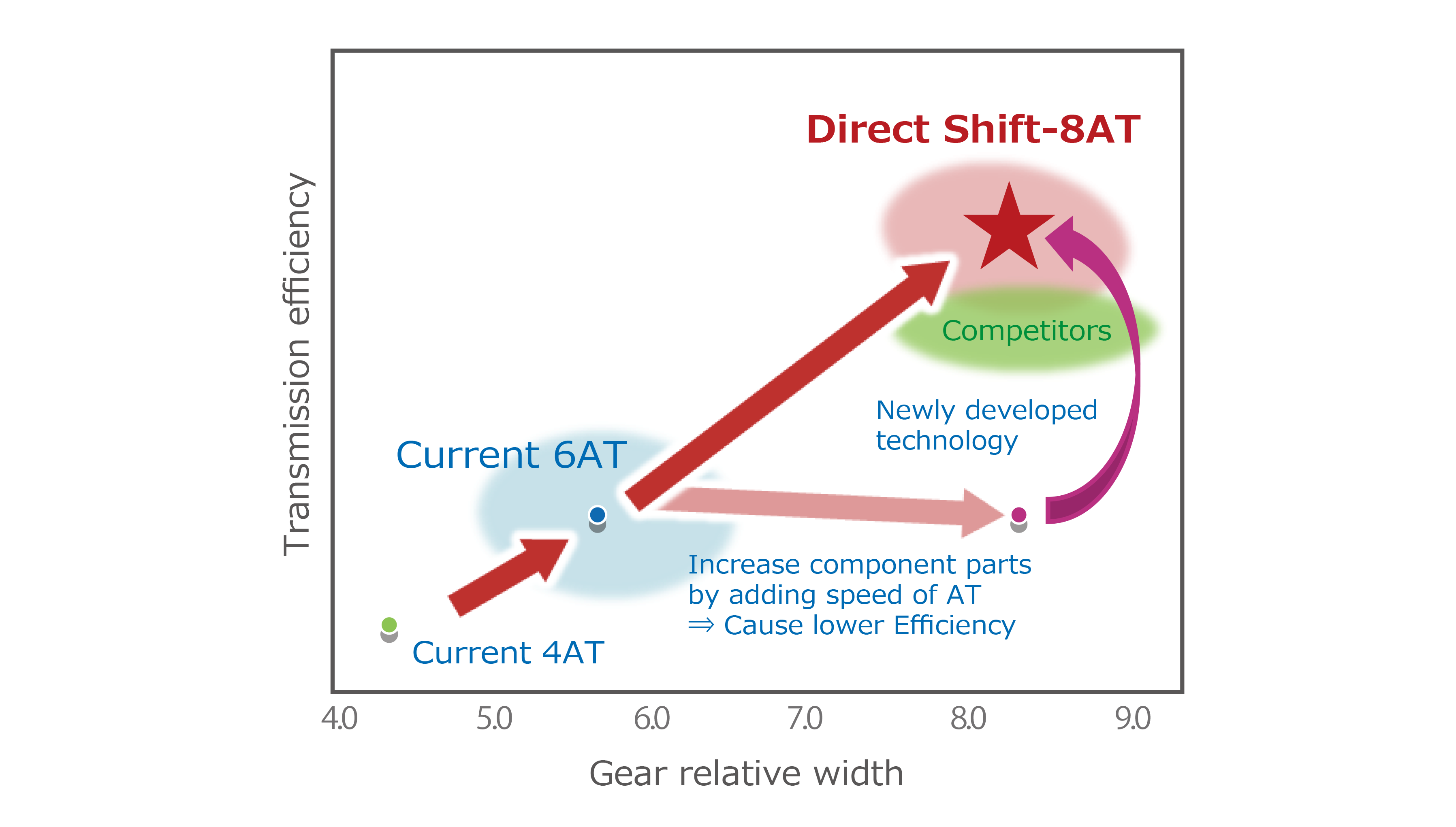 Realization of a more responsive driving feeling which quickly reacts to driver's acceleration operation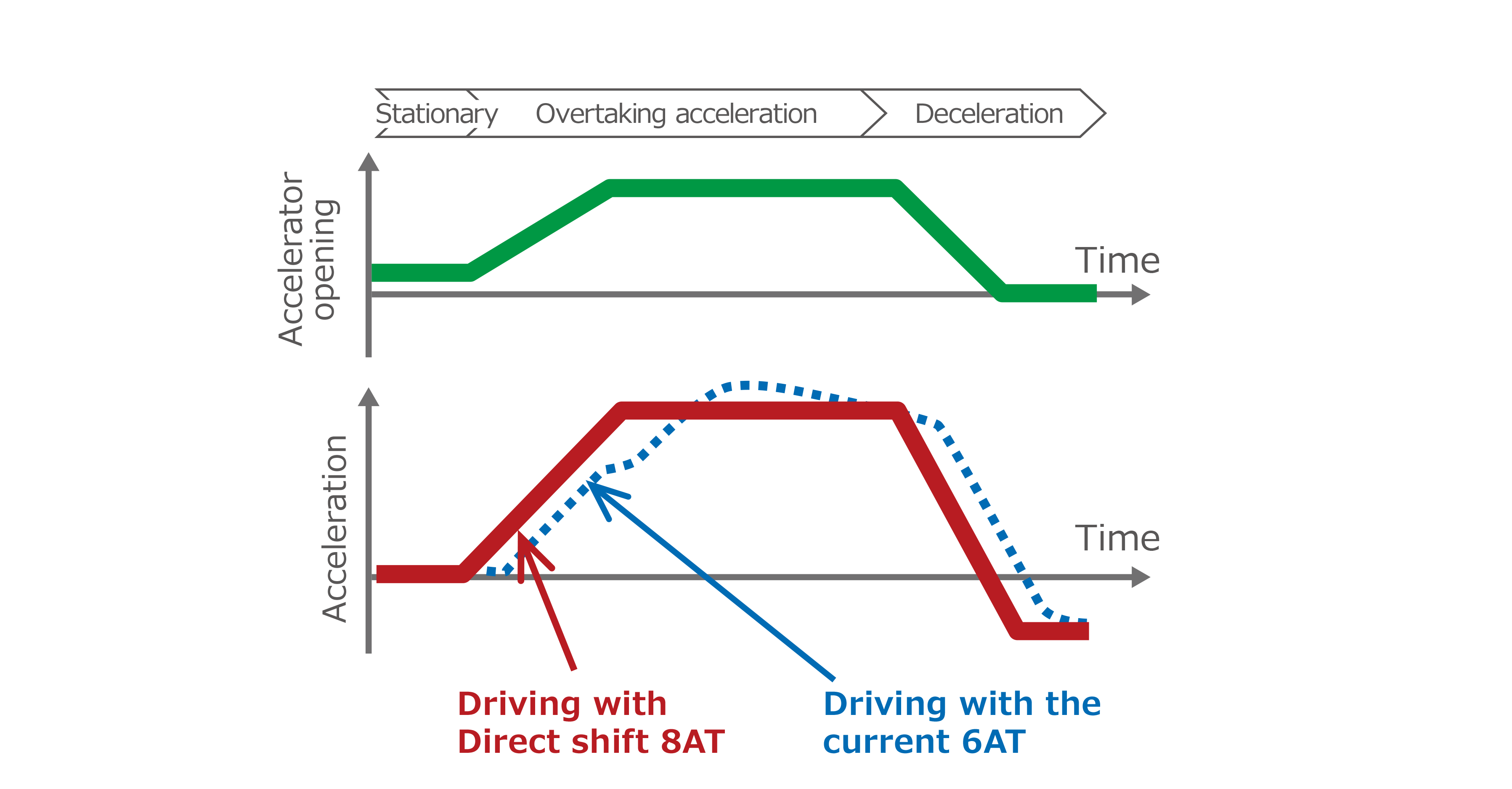 Compact package design achieved with Multi-shift step and high peformance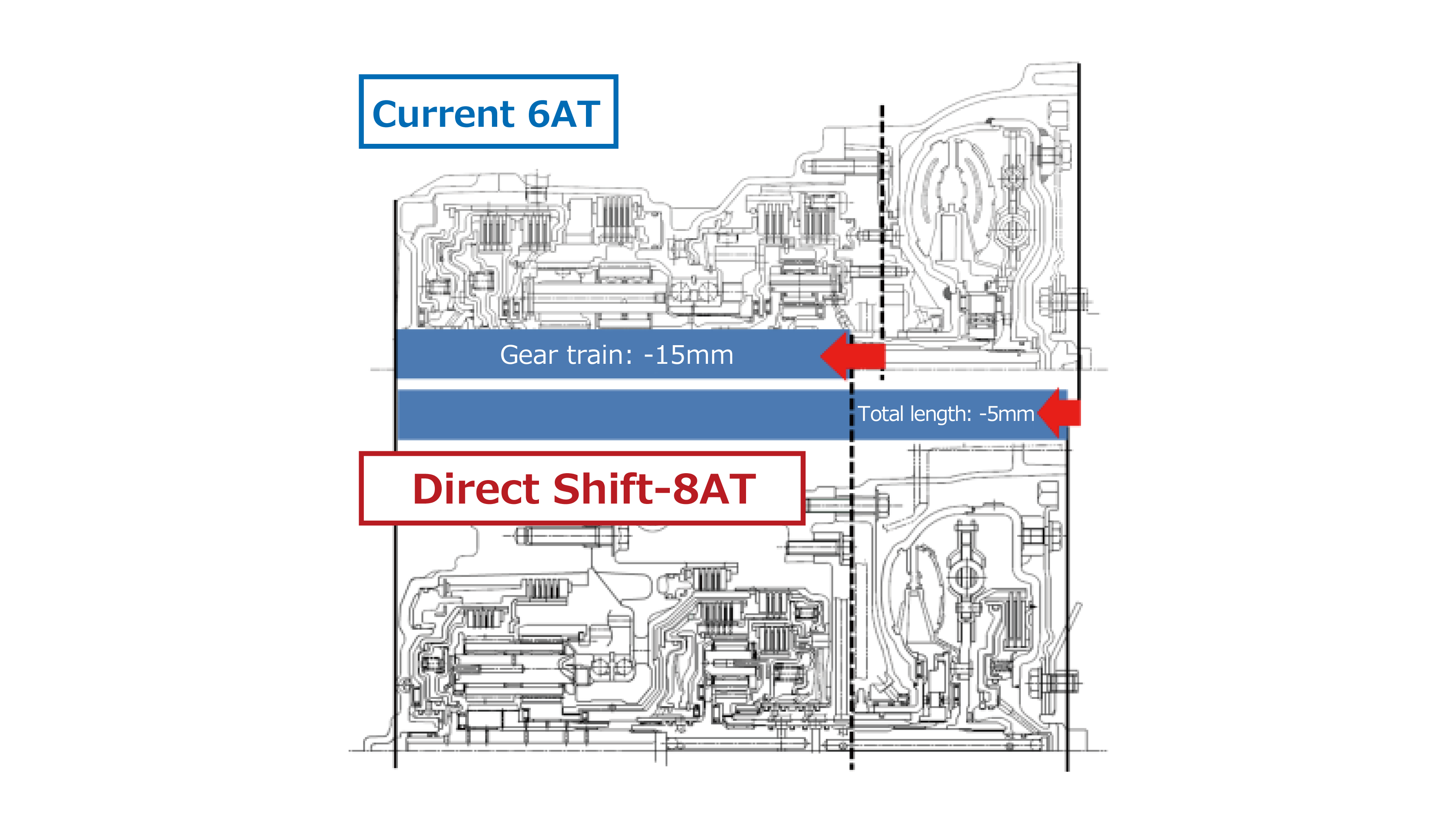 Details of the new technologies of Direct Shift-8AT
Low-loss torque friction plate
Lost torque was reduced by 50% with the optimization of friction plate segment shape in order to improve fluid drag force with a disengaged clutch.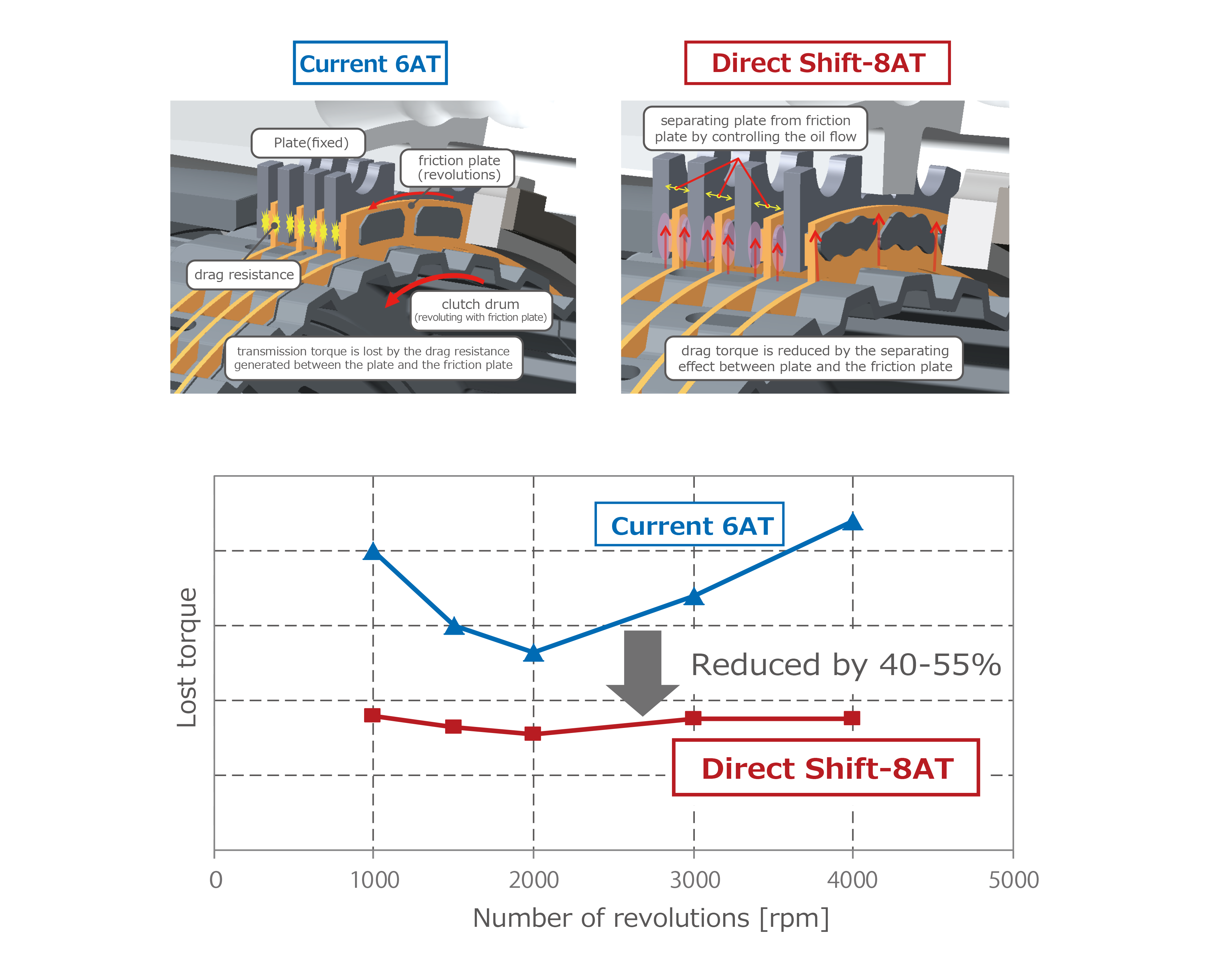 High performance compact torque converter
Newly developed lock-up system enabled widening the area which car can drive while the clutch is locked-up.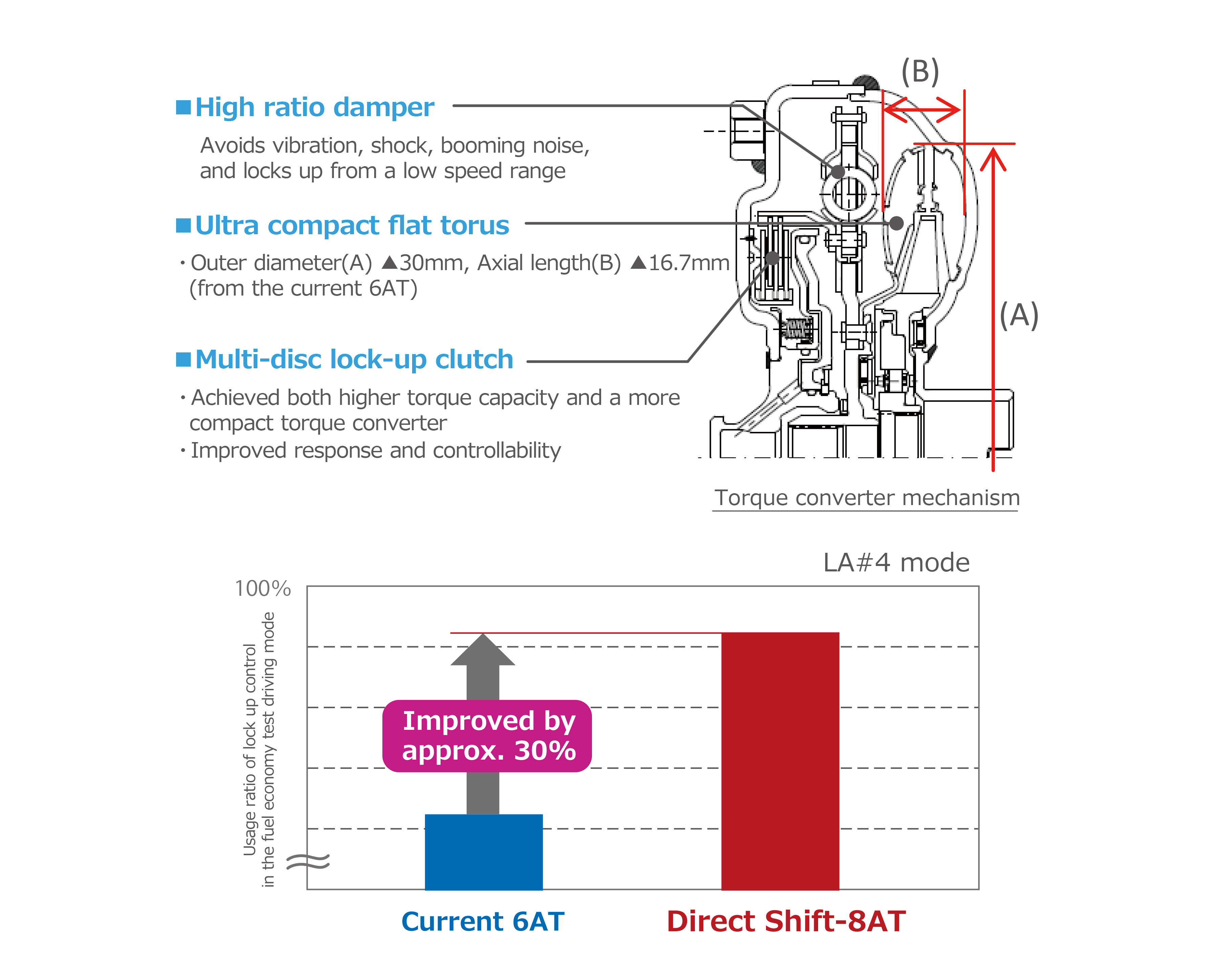 Performance of Direct Shift-10AT
Close-ratio transmission creates a smooth and rhythmical gear change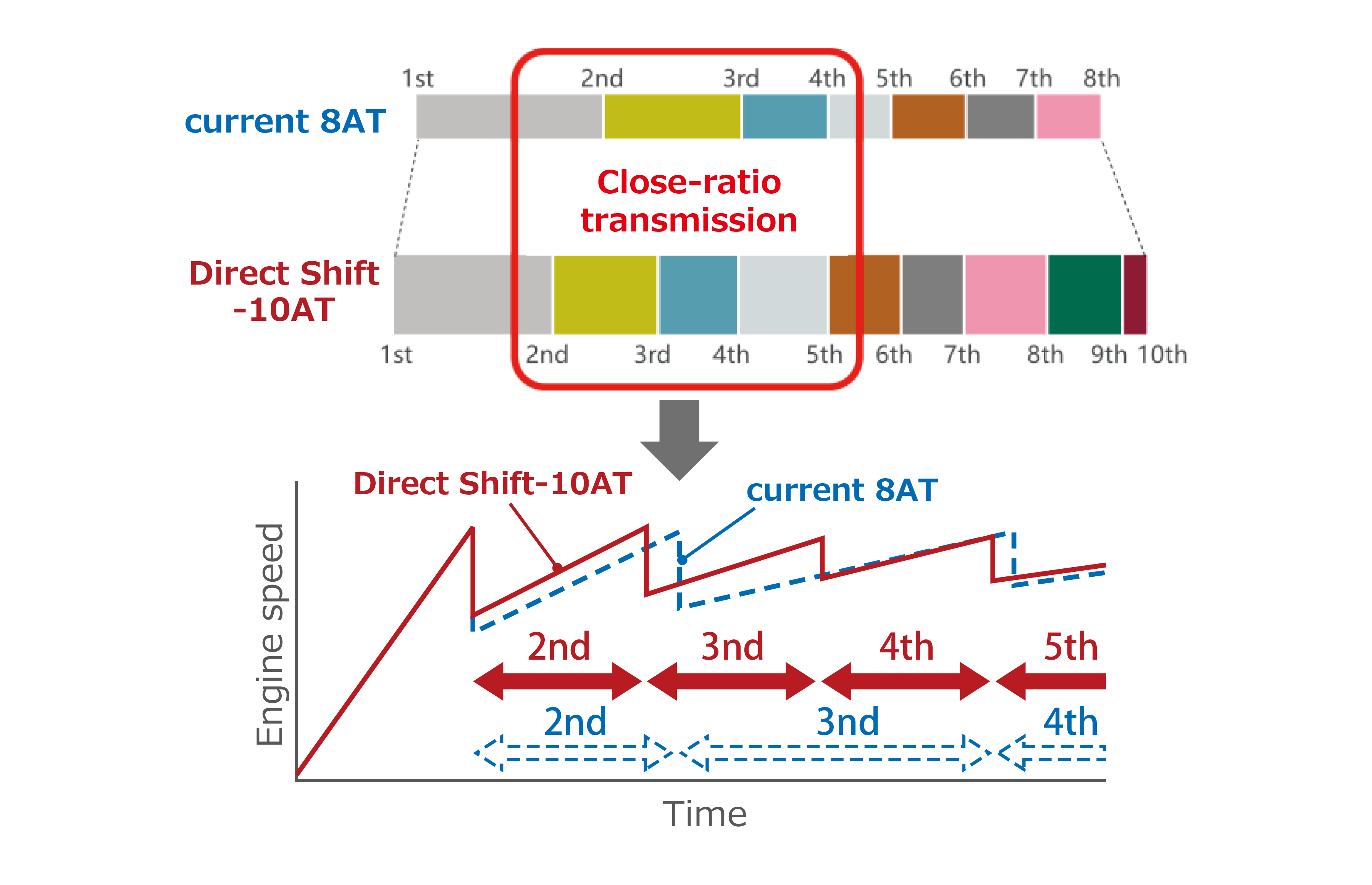 Fastest and shock-free gear change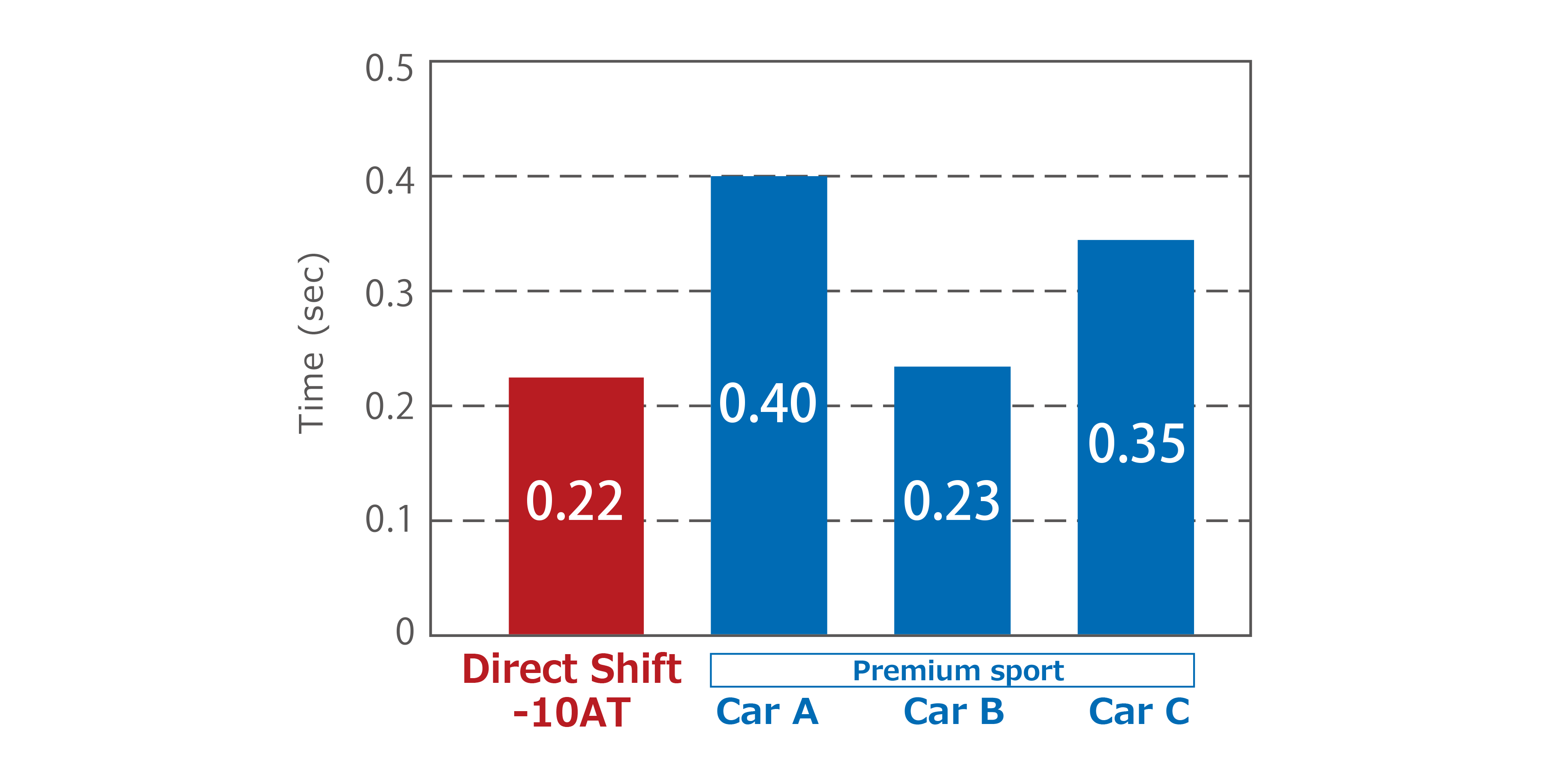 Realization of a more responsive driving feeling which reacts quickly to the driver's operation of the acceleration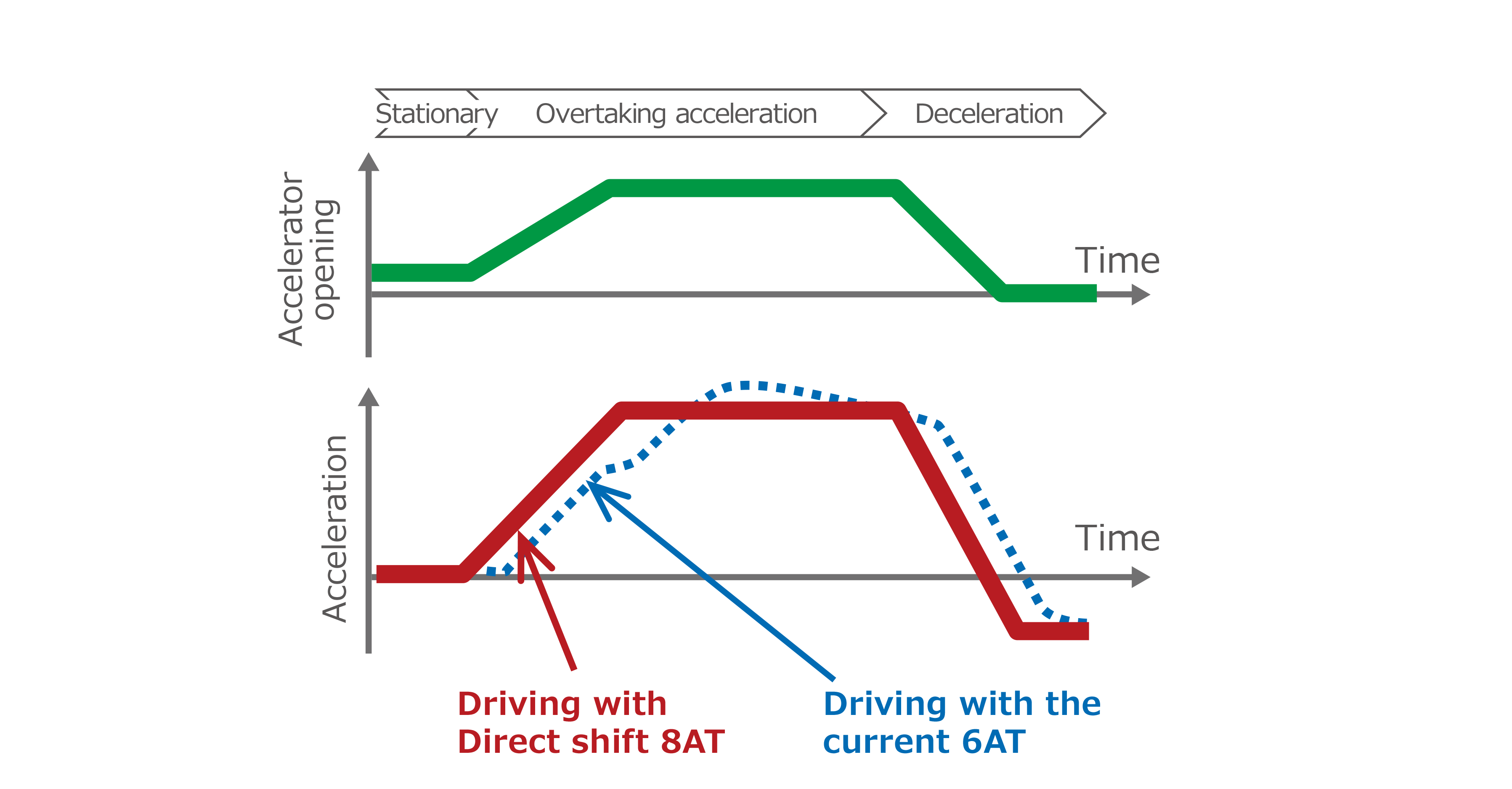 Details of the new technologies of Direct Shift-10AT
New 10-speed gear train
10-speed AT with minimum components
The same size with the current 8AT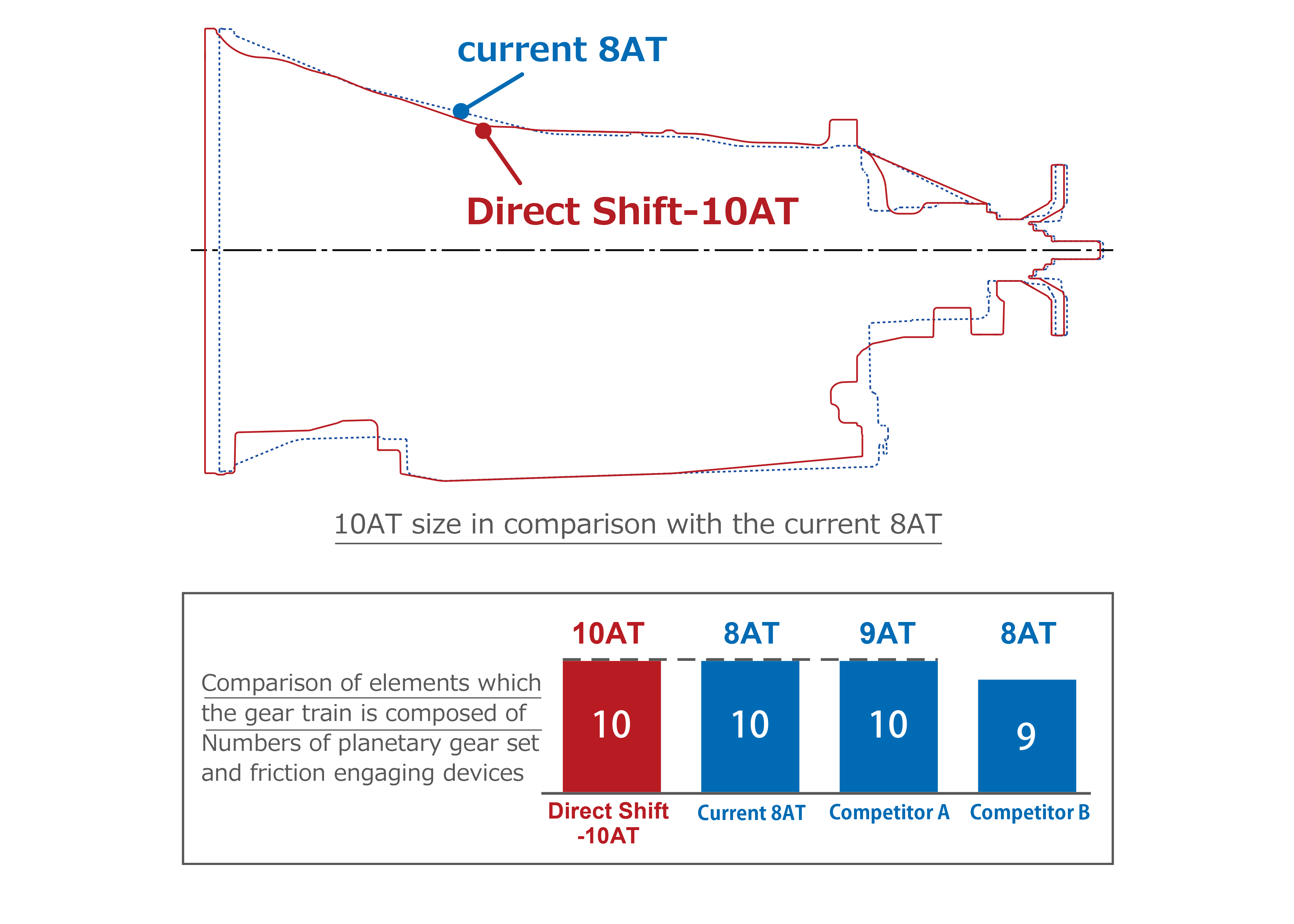 High performance compact torque converter
Sophisticated technologies into compact size