Oct. 18, 2018
Toyota to host 2018 Classic Car Festival at Meiji Jingu Gaien Park
In the final year of the Heisei era―1989-2018 in the Japanese calendar―the festival takes a look back at the era's first year with the Japanese Vintage Year 1989 exhibition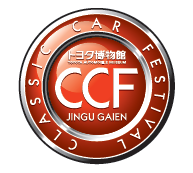 Tokyo, Japan, October 18, 2018―The Toyota Automobile Museum will host the 2018 Classic Car Festival at Meiji Jingu Gaien Park in Shinjuku, Tokyo, on November 17. The goal of the car festival is to nurture and promote automobile culture, as well as to encourage interaction among car fans; this year marks the event's 12th edition.
Most of the events will take place in front of the Meiji Memorial Picture Gallery. A rich variety of activities are planned, including exhibitions and driving demonstrations, and the now customary crosstown parade featuring approximately 100 privately owned classic cars.
The theme of this year's exhibition is "Japanese Vintage Year 1989." In the latter half of the 1980s, Japan was in the midst of the asset price bubble, an era in which every automaker developed a succession of new technologies, and which saw memorable cars launched in a variety of genres, from luxury sedans to personal coupes and sports cars.
This year's festival is the last of the Heisei era, with the Japanese calendar entering a new era from 2019. For this reason, it will focus on cars launched in 1989, the first year of Heisei, which is widely regarded to be a vintage year for Japanese cars. With the cooperation of various automakers, these cars will be introduced at the festival exhibition.
The Toyota Automobile Museum's philosophy is twofold: first, to transcend boundaries between manufacturers and brands and, together with all car fans, pay respect to automobile heritage; second, to promote Japanese automotive culture, in anticipation of a future that features both cars and people. The museum hosts a variety of indoor activities and a number of events, including the Classic Car Festival, in order to communicate this philosophy throughout the world.
Overview of the Toyota Automobile Museum
Classic Car Festival
at Jingu Gaien
Date
November 17, 2018
Time
10:00-15:30 (regardless of weather, however, certain exhibits might be rescheduled)
Location
Meiji Memorial Picture Gallery, Meiji Jingu Gaien (1-1 Kasumigaoka-cho, Shinjuku-ku, Tokyo)
Admission
Free
Program

Opening ceremony
Parade and exhibition of privately owned classic cars
Toyota Automobile Museum Japanese Vintage Year 1989 exhibition

Classic Car Circuit (CCC)

classic cars to participate in a driving display around the event area

Classic Car Studio (CCS)

featuring owner interviews and running commentary on events

Co-exhibitors
Subaru Corporation, Nissan Motor Co., Ltd., Honda Collection Hall, Mazda Motor Corporation
Please see the attachment for additional details.
Program for Classic Car Festival at Jingu Gaien on November 17 (Sat.)
Event Program
Program
Time
Details
Classic car parade

(featuring approx. 100 privately owned vehicles)

10:20-12:00
Parade starts and ends at the Meiji Memorial Picture Gallery

(following an approximately 11 kilometer route through the Ginza district)

Classic car exhibition
11:00-15:30
Exhibition featuring privately owned vehicles that took part in the parade, alongside vehicles from the Toyota Automobile Museum's Japanese Vintage Year 1989 exhibition.
Classic car popularity contest
11:30-14:45
Contest in which visitors can vote for their favorite classic car among the privately owned cars on display. Note that ballots will be distributed at the Information Desk.
Classic Car Circuit (CCC)
12:45-15:00
Classic cars, including privately owned vehicles and vehicles from the exhibition (see below), to be driven around the circuit.
Classic Car Studio (CCS)
12:30-15:00
The studio will feature owner interviews and running commentary on events.
Opportunity to take commemorative photos in select vehicles
10:00-15:00
Participants given opportunity to take commemorative photos in the three cars listed below:
Ford Model T Touring
(1914, USA)
The Model T Ford is regarded as the vehicle responsible for the worldwide rise in popularity of gasoline-powered automobiles. More than 15 million units were manufactured between its debut in 1908 and final production in 1927.
Horch 853
(1937, Germany)
The Horch 853 was praised for being more affordable than a Mercedes-Benz but with superior performance. The company's four-ring emblem represents the Auto Union―a coalition of four companies that formed in 1931 to survive the Great Depression.
Jaguar E-Type
(1967, UK)
On display at Mega Web
Jaguar sports cars boasted performance on par with Ferraris and Aston Martins but at much more affordable prices. The Jaguar E-Type, however, astonished the world with its remarkable beauty.
Other exhibitions
10:00-15:00

Hands-on traffic safety corner
Campaign to support relief efforts following

the Great East Japan Earthquake,

the 2016 Kumamoto Earthquakes,

the 2018 Japan Floods,

and the 2018 Hokkaido Eastern Iburi Earthquake

Museum shop
Food garage
Note

Vehicles, times, and other items may be changed if necessitated by circumstances.
The Japanese Vintage Year 1989 Exhibition
Vehicle
Details
Subaru Legacy Touring Wagon

(1990)

<Subaru Corporation>

Fuji Heavy Industries (present-day Subaru) created the Legacy Touring Wagon as its new flagship model and gave it an all-new design. Developed from the outset to be a passenger wagon, the car launched a new genre of passenger cars that combined the performance of a sedan with the utility of a wagon. It proved a huge hit, significantly changed the image of the Subaru brand, and inspired a major boom in the wagon category.
Toyota Celsior (1991)
The export version of the Toyota Celsior was known as the Lexus LS 400. Seeking to create a flagship model that was equal in quality to those produced by luxury European brands, Toyota overhauled the entire development of the Celsior from the ground up: the result was a vehicle that fused outstanding driving performance with exceptional quietness. The quality of the vehicle astounded luxury car makers the world over, and influenced their subsequent vehicle development.
Nissan Skyline GT-R (1989)

<Nissan Motor Co., Ltd.>

Revived after a 16-year hiatus, the long-awaited GT-R attracted great attention among fans and mainstream news outlets alike. With its 2.6-liter twin-turbo engine, electronically controlled torque-split 4WD drivetrain, and four-wheel multi-link suspension, the GT-R boasted a new structure and realized world-leading touring car performance. In racing, the model created a new "GT-R legend" by winning 29 JTC races in succession.
Honda NSX (1990)

<Honda Collection Hall>

The Honda NSX was launched as a high-performance, "people-centric" car that could be driven with ease by anybody. In pursuit of the ultimate performance, the car equipped a mid-ship, rear-drive engine to the world's first all-aluminum body. This new Honda flagship model proved to be a new type of sports car: it possessed greater comfort and safety, and responded more directly to driver input.
Eunos Roadster (1989)

<Mazda Motor Corporation>

The concept behind the first-generation Roadster was "providing everyone with happiness." Mazda sought to revive an orthodox, lightweight, open-top sports car―which had at one point completely disappeared from the market―with the latest technologies. The Roadster proved a massive hit around the world, and established a new relationship between human and car that transcended a mere means of transport.
( ) denotes production year; < > denotes exhibition assistance